AÂ Silesian Cheese Cake!
The History
When The Practical Cookbook was penned in 1844, Germany wasn't a unified country: it was a collection a various city states, each with distinct languages, cultures, and foodways.  The recipes is this book are often titled with the region of their creation: "Pork Croquettes in the South Germany Style," "Frankfurt Sausages," "Baden-Baden Pudding," "Westphalian Cake," and this recipe, Silesian Cheese Cake.  Silesia was a part of Prussia, which today is part of Poland–although when this book was written the area was German-speaking.  The Cheese Cake is a yeast risen dough, topped with a mixture of cheese curds, sugar, and cinnamon.
The Recipe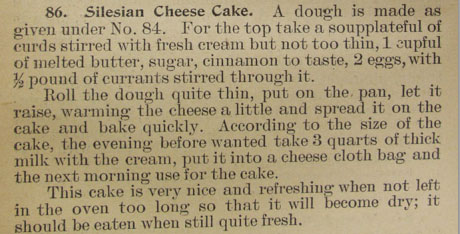 For the Dough:
2 1/2 cups white flour
1 cup yeast starter (It's a moist, doughy yeast culture that lives in my fridge. Â More on this in a future post. Â If you don't have fresh yeast, use 3 cups flour and 1 packet yeast dissolved in 1/2 cup warm water.)
1/2 cup apples, pared and diced.  (The original recipe calls for raisins.  I hate raisins.  But this dough needed some sweetness, so apples instead!)
1/4 unsalted butter, melted (The recipe calls for half butter and lard; I used schmaltz instead. Â Butter will do just fine)
2 cups warm milk
2 tablespoons sour cream (or buttermilk)
Put everything in a bowl and mix it up, stirring in the apples last. Â Cover with a clean towel and set somewhere warm to rise for 30 minutes. Â Spread into a baking pan, and allow to rise 30 minutes more.
It's about 10 degrees outside in Queens right now, so finding a warm spot in my house for the dough to rise was difficult.  But I found it by following the cat–she knows best.  She's been camping out by the steam heat pipe in the bathroom.
Moxy helps the dough rise.
For the topping:
The recipe's directions confused me in regards to the cheese curds–"…The evening before wanted take 3 quarts of thick milk with the cream, put into a cheese cloth bag, and the next morning use for the cake."  Okay, so she's instructing cooks to strain the liquid out…but usually you have to make it curdle first.  Would the cook add salt?  Would the natural bacteria in the milk make it curdle? Would it be more like Greek yogurt? Maybe someone who's reading this post knows better.
I found a package of "French Yogurt Cheese" in a weird, small grocery store near my house. Â It looked, and tasted, like large-curd cottage cheese, which seemed to be about what I needed.
What is this? I don't know.
1 cups vaguely defined cheese curds (try cottage cheese)
1/4 cup cream
1/2 stick melted unsalted butter
1/2 cup sugar
2 teaspoons cinnamon
1 large egg (I put in two–but the recipe would have used 2 medium eggs, not two large. Ooops.)
Put it in a bowl and mix it up!
Mixing the Topping.
After the dough had its second rise, I poured the cheese mixture on top, then baked at 375 degrees for 30 minutes.
The Results
I cut a slice of this cake while it was still warm. Â It had surprisingly moist, dense, and gummy texture. Â I'm not sure if that's the nature of the recipe, or if my yeast didn't do much of anything. Â Either way, I didn't really mind. Â It kinda worked.
I think this cake could use some technical improvements.  Perhaps the dough should be baked first, then spread with the cheese topping, and put in the broiler a few minutes to melt and brown it.  I think the ultimate incarnation of this recipe would be a slightly sweetened yeast dough, topped with poutine-style cheese curds, and sprinkled with cinnamon sugar.  Salty, sweet, and a little gooey–I think it could be a real winner.
 Gummy, but decent.