WTF is MSG?
Extra Crispy
July 18, 2017
"People are scared of MSG, right? It's this dangerous powder that's gonna make you have all these terrible maladies. Well, the truth is, there's no science that supports that. I can tell you what it is, and how we ended up being scared of it, and how restaurants like Mission Chinese are battling those stereotypes."
***
The Chili Powder Cheat: A Tex-Mex Story
Gravy Podcast
March 23, 2017
Texas: the land of BBQ, breakfast tacos…and of course Tex-Mex. But what if we told you Tex-Mex wasn't created by a Texan or Mexican, but a German immigrant? On this episode of Gravy, we tell you the story of William Gebhardt, the inventor of chili powder.
***
Demystifying MSG
Eater
March 21, 2017
***
A Culinary Tour of the Lower East Side
The Bowery Boys podcast
April 18, 2016
Join Tom as he experience the tastes of another era by visiting some of the oldest culinary institutions of the Lower East Side. From McSorley's to Katz's, Russ & Daughters and Economy Candy — when did these shops open, who did they serve, and how, in the world are they still with us today? He explores the topic with author Sarah Lohman of the Four Pounds Flour blog.
***
#9 Pigeons
Surprisingly Awesome podcast
March 22, 2016
"There's often reasons why we don't eat certain foods anymore. You know? It's a small bird without a lot of meat and a very, very distinct taste and texture, that's not going to appeal to everybody."
***
Distilling Brooklyn
The Brooklyn Historical Society
May 14th, 2015
I moderate a discussion among four of New York City's top distillers, including NY Distilling Co., Kings County Distillery, Brooklyn Gin, and Van Brunt Stillhouse. We explore the rich past of distilling in Brooklyn, as well as how New York paved the way for craft distillers in the present day. The distillers share their personal stories of how they got started and talk about the challenges of craft distilling.
***
The Scoop on Ice Cream
Gastropod
July 28th, 2015
Grab your spoons and join us as we bust ice-cream origin myths, dig into the science behind brain freeze, and track down a chunk of pricey whale poo in order to recreate the earliest published ice cream recipe. In the episode, historical gastronomist Sarah Lohman scored some wildly expensive ambergris in order to recreate Lady Anne Fanshawe's ice cream; listen in to hear our verdict on the taste.
***
Mourning the Matzo
All Things Considered
NPR
April 1, 2015
An interview with NPR's All Things Considered on the closing of the Streit's Matzo factory on the Lower East Side, after 90 years in business. "We aren't really losing this product, or this family, or this business," Lohman says. "It's still very much a part of New York history and Jewish history in America."
***
Arise and Shine
Arise
January 3, 2015

I recently appeared on the new network Arise, on the New York based show Arise and Shine with Rain Pryor and Priya Sridhar. We chatted about my blog, my methodology, and my upcoming book; then I demonstrated Reuben's Apple Pancake! Apples are covered in pancake batter, the fried in butter in sugar to give it a crispy and gooey caramelized crust. I impressively flipped it, and made a little mess but not a big one, and it turned out beautiful and delicious.
And you can watch it all above, and get the recipe here.
***
Bourbon Now Made in Brooklyn
CNN
March 3, 2013
"'For the first time since the Prohibition era, bourbon is produced — legally — in New York City,' Richard Roth explains."  I give my expert opinion at :55.
***
Appetite City
NYC Media
First aired August 11th, 2011.
Eight episodes over eight weeks.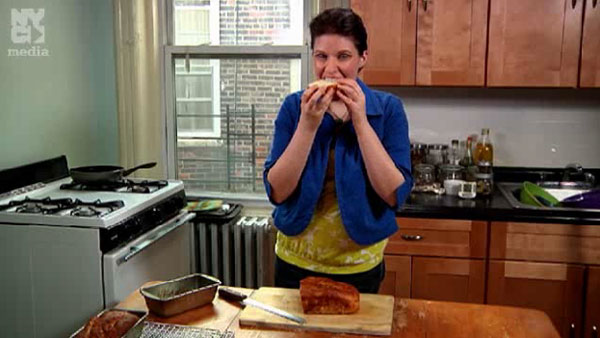 Appetite City tells the history of New York through its food. Noted author and former restaurant critic of the New York Times William Grimes takes viewers back in time to explore the origins of some of New York's most loved and iconic foods with visits to Brooklyn delis, historical taverns and local food markets
In each of these episodes, I am featured cooking a historic recipe on the show's theme.  My segment begins at approximately 12min and 30sec.
Click the links below to view each episode:
****
Edible: Historical Gastronomist Takes On Classic Recipes In Her Long Island City Kitchen
By Rachel Wharton
Aired on New York 1 on January 14th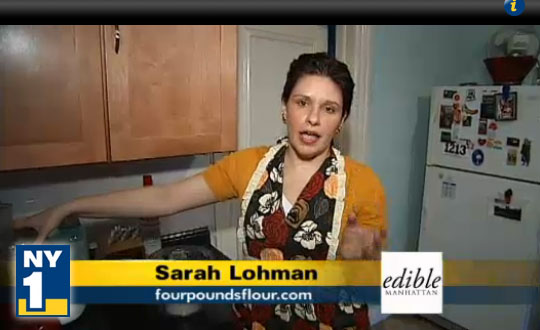 "Rachel Wharton of Edible Manhattan traveled to Long Island City, Queens to the kitchen of Sarah Lohman, a historical gastronomist who took on the task of making ice cream from 1890. "'This is the first time I've made it, so it could be a disaster; we'll find out,' Lohman says. 'But, to me, I'm more of a student of history and not an expert. I'm always learning, and finding out what's going to happen is part of the thrill."' Watch the video here.
***
Heritage Radio Network
We Dig Plants
With Carmen DeVito & Alice Marcus Krieg
Tomatoes – First Aired – 07/31/2011
"Carmen DeVito and Alice Marcus Krieg are joined by gastronomic historian Sarah Lohman who adds some great history while serving up a delicious and unique Bloody Mary on-air." Listen to the Episode.
Spices – First Aired – 12/19/2010 03:30PM
"The girls are joined by historical gastronomic Sarah Lohman of Four Pounds Flour who gives food related context to the interesting and often misunderstood story of these two precious spices. Tune in and learn how Cinnamon once masked the flavor of bad meat and why cloves are so directly related to alcohol." Listen to the Episode.
The Pear Show – First Aired – 11/14/2010 03:30PM
Listen to the Episode

A Taste of the Past
With Linda Pelaccio
Thanksgiving and Historic Recipes – First Aired – 11/11/2010 12:00PM
"Linda tackles Thanksgiving, and journeys back to discover some of the original recipes used when the Plymouth Crew and the locals got together to celebrate the harvest. Joining Linda on this trip through the past is Sarah Lohman, an artist, author, and "historic gastronomist": one who re-creates recipes from days of yore exactly as they were, essentially engaging in taste-time-travel." Listen to the Episode.
***
New York Wave: Sarah Lohman
Aired on NHK Japan
"This time on New York Wave, guided by Sarah, we'll set out a food time traveling trip." I was recently featured in a Japanese TV show about New York culture called "New York Wave."
We shot for five days: we ate some bear and we ate some turtle; we cooked 19th century pancakes on an open hearth; we had so many adventures. All in Japanese. It was one of the most intense experiences of my life. Enjoy.
***
History Tastes Like Bear Meat in Brooklyn
By Van Tieu
History Tastes Like Bear Meat In Brooklyn from Brooklyn Ink on Vimeo.
"Culinary Historian, Sarah Lohman, discovers bear meat in historical American cuisine, and flips pancakes from 1842 at the Old Stone House in Park Slope, Brooklyn."
***
The Historic Gastronomist: Giving Recipes an Afterlife
By Liza de Guia
Nov 10, 2009

The Historic Gastronomist: Giving Recipes an Afterlife from SkeeterNYC on Vimeo.
"Sarah is a rare breed of hobbyist. A 'historic gastronomist'. She rediscovers and recreates American recipes that went out of style hundreds of years ago. For her, it is the closest thing to time travel…reawakening her senses and opening doors to old flavors and ideas that had once been pop culture. food. curated. spent an afternoon with Sarah in her 'kitchen lab' and at Brooklyn's Old Stonehouse to see what a typical day of recipe testing is like…"