Eight Flavors: The Untold Story of American Cuisine
Press and Reviews
Scroll down for general press and profiles. For book related press inquiries, please contact Elizabeth Gay 212-698-7544 elizabeth.gay@simonandschuster.com. For all other press, contact sarah@fourpoundsflour.com
Eight Flavors: The Untold Story of American Cuisine
by Audie Cornish
NPR, All Things Considered, December 15, 2016
"And when someone is eating – as soon as they're consuming and smelling and tasting, they started asking questions. That's what I've always noticed. So I love to eat on one level, but I love the conversations that spring from food even more."
'Eight Flavors' is a Tasty History of American Cuisine
By David Holahan
USA Today, December 12, 2016
Just as individuals are what they eat, a nation's evolving food preferences reveal a great deal about its character. And America boasts "the most fascinating and complicated cuisine on the planet," according to Lohman.
How Just 8 Flavors Have Defined American Cuisine
By Alan Yu
NPR, The Salt,  December 6, 2016
"I didn't so much choose the flavors that appear in this book, as discover them," Lohman writes.
'Eight Flavors' is Part Travelogue, Part History, and Part Recipe Book
By Emily Cataneo
Christian Science Monitor, December 5, 2016
Lohman's attention to detail is meticulous, and she presents more than a few intriguing facts about the history and culture of food. With these in mind, readers will find themselves noticing aspects of American cuisine that they always took for granted.
How American Cuisine Became a Melting Pot
By Sophie Gilbert
The Atlantic, November 23, 2016
But the key factor that's defined American cuisine throughout the years is undoubtedly immigration. Chili powder, invented by a German American in 1897 to facilitate making Mexican food in the U.S., is one example of what Lohman describes as the "patchwork quilt" of American food culture.
Eight Flavors: The Untold Story of American Cuisine
By Darrell Delamaide
Washington Independent Book Review, January 24, 2017
"A playful, erudite guide to our culinary evolution."
The Eight Flavors That Unite American Cuisine
By Christopher Kimball
Wall Street Journal, January 6, 2017
Author Spices Up American History with "Eight Flavors"
By Jules Wagman
St. Louis Post-Dispatch, December 24, 2016
"Eight Flavors" is a lot of fun. Lohman mixes personal experiences, recipes and culinary history to serve up a bright, readable book to attract the attention of anyone who loves to eat — especially those seeking out gustatory adventures, be they old or new.
The 8 Flavors That Define American Cuisine
By Susannah Cahalan
New York Post, December 24, 2016
"Hold on to your chefs' hats — a new book argues that American is the world's most complex cuisine."
Eight Flavors: the Untold Story of American Cuisine
By Norah Piehl
Book Reporter, December 16, 2016
What's most notable is the extent to which the story of these eight flavors is the story of American immigration and of the literal melting pot that American cuisine has become.
Uncovering the Eight Flavors of Modern American Cuisine
Wbur, December 15, 2016
Moose Face, Vanilla, Sriracha? Guess What the 8 Most American Flavors Are
The Feast, December 9, 2016
She describes her book as an "ode to these people that have affected our history in this country just as much as the establishment" but whose contributions are often overlooked. "Food is something that is often accepted in this country before we accept the immigrants themselves."
What's eating New York? The secrets of a culinary powerhouse
By Erica Wagner
Financial Times, December 9, 2016
"It is a nifty idea, cleverly executed and well written — the kind of book that makes the reader annoy her family by constantly exclaiming "Gosh! Did you know…?"
Kebabs are the next hamburgers: how war and immigration predict what we eat
By Caitlin Dewey
Washington Post, December 7, 2016
The Flavor of American History
By Sarah Grey
Spoonful Mag, December 4, 2016
"The American is not static," writes Lohman; "it's cumulative, and it evolves." As a country changes, so does its cuisine, and each new group that arrives has something important to offer.
The Best Books About Food of 2016
By Rachel Tepper Paley
Smithsonian.com, December 1, 2016
10 Culture Essentials for December
By Annaliese Griffin
Brooklyn Based, December 1, 2016
"A compulsively readable, surprising and deeply researched culinary history–without feeling like a college reading assignment."
Eight Flavors by Sarah Lohman
By Stephanie Topacio Long
Bustle, December 1, 2016
"Warning: this book may make you hungry."
This New Book Defines the Flavors of American Cuisine
By Emily Singer
Gear Patrol, December 2016
Accompanying the histories of each flavor are traditional recipes that highlight traditional usage and interpretations of each ingredient, like Martha Washington's "Black Pepper Brown Sugar Cookies" and "Country Captain Chicken," an artifact of the British East India Company that migrated to the American South by way of Anglo-Saxon immigrants during the 1800s.
Eight Flavors: The Untold Story of American Cuisine
Kirkus Book Review, December 2016
A tasty historical study of flavorful mainstays of American cuisine.
So Good You Can Almost Taste It
By Henry L. Carrigan Jr.
BookPage, December 2016
"Lohman's delectable book illustrates the deep connections between culture and food, reminding us that the flavors that enhance our foods represent the people who cook it."
Hot Type for the Holidays
Passport Magazine, December 2016
"Lohman will win you over with her detailed exploration of how each ingredient was introduced to the country and how it's impacted our cooking over time."
The Spice Curve: From Pepper to Sriracha with Sarah Lohman
Gastropod, November 29, 2016
Eight Flavors by Sarah Lohman
By Michelle
Daily Waffle, November 21, 2016
Go look in your pantry and fridge and almost certainly you'll find these eight items in your kitchen…they've been there so long, you probably take them for granted. And still, it's hard to imagine how bland our diets would be without them.
Eight Flavors with Sarah Lohman
Aired on Heritage Radio Network, November 7, 2016
The 7 Best Books of December
By Michael Schaub
Men's Journal, November 2016
It's part history, part cookbook, and part exploration of what American food says about our culture.

Eight Flavors, the Untold Story of American Cuisine
Publisher's Weekly, starred review, October 31, 2016
Lohman's thoughtful, conversational style and infectious curiosity make the book wholly delightful.
8 New Nonfiction Books to Read This Fall
By Carey Polis
Bon Appetit, September 6, 2016
A breezy American culinary history that you didn't know you wanted.
Sugar, Fat & Flavor | Nonfiction Previews, Dec. 2016
By Barbara Hoffert
Library Journal, June 13, 2016
"Unexpected reading."
Other Press
NYC City Tour Guides Take Visitors Off The Beaten Path
By Anne Kadet
Wall Street Journal, October 3, 2017
"Sarah Lohman's passion—the American immigrant experience seen through the lens of culinary history—is a narrow topic for sure. How do you monetize that? For the Lower East Side gastronome it means publishing a book, working museum gigs and maintaining a blog. But her fourth sideline sounds the most amusing: she takes tourists on eating expeditions around the city."
***
The Bittersweet Story of Vanilla
By Simran Sethi
Smithsonian.com, April 3, 2017
"As Lohman explains in Eight Flavors, the United States is the world's largest importer of vanilla: "Every American consumes about 5.4 grams of vanilla annually—a little over 2 vanilla beans every year. It doesn't seem like much per person, but it adds up to over 638 million beans consumed in the United States each year."
***
What Today's Cooks on a Budget Can Learn From Tenement Life
By Barbara Hoffman
New York Post, March 14, 2017
"Lohman tried living on what she calls "a poverty diet" eight years ago, when she found an 1877 pamphlet titled "Fifteen Cent Dinners," outlining meals that could feed a family of six for $3 a week."
***
Is Real Vanilla Always Better Than Imitation Vanilla?
By Joe Sevier
Epicurious, March 24, 2017
"Culinary historian Sarah Lohman makes the argument that there are times when imitation vanilla extract is actually preferable to pure. 😮  'I believe there is a time and place to use every version of vanilla in your kitchen: Bean, natural extract, and imitation extract,' she writes."
***
Devouring (a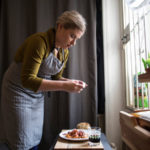 nd Drinking) American History
by Corey Kilgannon
New York Times November 16, 2016
Ms. Lohman calls herself a "historic gastronomist," explaining that she searches old cookbooks and other records to recreate forgotten recipes as a way of studying history and the effects of earlier cooking on modern eating habits. Part of her work involves putting herself through eating experiments, which she calls "an elaborate form of performance art."
***
Historical Gastronomist Sarah Lohman's Essential New York Restaurants
by Alicia Kennedy
edible Manhattan January 26, 2017
***
How a Historian Experienced Post-Election Grief and Used Food to Find New Purpose
by Chase Purdy
Quartz November 18, 2016
Everyone eats, and Lohman has found that people of all creeds and colors enjoy asking questions about food—that it's a medium people are comfortable using to investigate other cultural issues. Employing food and her immersion-style research as a conversation starter, Lohman hopes to focus more of her attention on telling the stories of American immigrant communities.
***
Museums Offer Food for Thought
by Sophia Hollander
Wall Street Journal May 24, 2016
There is a tendency to look back and think, "they were all Jewish—they all wanted the same thing, they came from the same background and for the same reasons and that is not true," said Sarah Lohman, who studies the history of food and who developed the program for the museum. "I wanted to use food to break apart that nostalgia."
***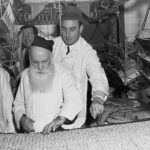 Mourning The Matzo:  Iconic N.Y. Factory To Leave Former Jewish Hub
By Joel Rose
NPR April 2, 2015
"But as Lohman points out, the Lower East Side has changed many times before. And Streit's isn't going out of business. 'We aren't really losing this product, or this family, or this business," she says. "It's still very much a part of New York history and Jewish history in America."'
***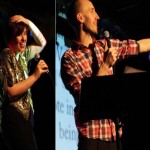 Have Chilis, Will Travel: Brooklyn "Masters of Social Gastronomy" Take on Sriracha
By Emma Cosgrove
Edible Brooklyn, March 10, 2014
"Despite the stories of blistering chilis and the uncommon access to the factory where the ingredient of the moment is made, the most surprising aspect of the night was definitely the fervor. There was an excitement in the room that live music in similar time slots rarely conjurs."
***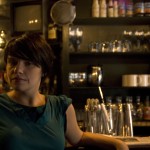 Back Of The House: The Fascinating Work of a Historic Gastronomist
By Jaya Saxena
Serious Eats, February 26th, 2014
'"Historic Gastronomist' is a title Lohman came up with to describe her mission of discovering American history through food, and using those findings to illuminate our current eating habits. 'Molecular gastronomists, or modernists, use modern technology to advance cuisine and our knowledge of food,' she explains. 'I use history."'
***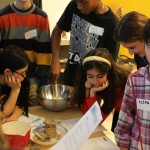 Spare Times for Children: 'At the Kids' Table With Sarah Lohman'
By Laurel Graeber
New York Times, January 9th, 2014
"Ms. Lohman said she hoped the programs would help demystify cooking for children, as well as provide a tangible link to earlier generations. Although some find history's dates and documents intimidating, everyone relates to food. 'A recipe is a document that can come to life,' she said."
***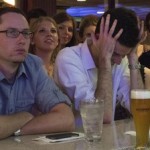 Debates And Debauchery: Drinking Games In 2012
by Linton Weeks
NPR blog, October 22, 2012
"By 1830, Lohman says, referring to a chart, the annual per capita consumption of distilled spirits in the United States was five gallons — for every man, woman and child. Such widespread imbibing led to a strong temperance movement and eventually Prohibition in the 1920s. America probably needed to dry out for a while, she tells the group. "We were a … mess."'
***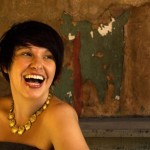 Sarah Lohman, Foodie Historian: OLD RECIPES, RETRIED
By Jessica Weisberg
The New Yorker blog, Sept. 28, 2012
"Lohman is serious, but lighthearted, about her work; she's a skilled cook, but she seems to most enjoy the treasure hunts that certain recipes require. For an early-twentieth-century bread recipe that called for "cheese tang," which Lohman deduced to be an extinct powdered-cheese product, she substituted an instant-mac-and-cheese flavor packet. (It turned out quite well.)"
***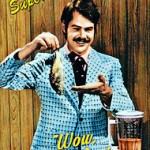 Must-Have Gadgets for the Kitchen? Think Again.
By William Grimes
New York Times, March 20, 2012
"'What we should be asking is, what are the simplest tools that are most effective?" she said. "It's very difficult to find a tool that makes things easier rather than adding an extra step.'" Read the full article here.
***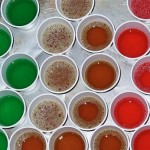 Watch it Wiggle: The Delicate Art of the Jell-o Shot
By Troy Patterson
Slate.com, Posted Friday, March 16, 2012
"Jerry Thomas, in his seminal 1862 work How to Mix Drinks, dropped a recipe for punch jelly ripe with cognac and dark rum, and it has been ably updated by the food blog Four Pounds Flour."  Read the full article here.
***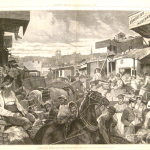 Bear Meat, Ice & Celebrity Chefs: A Look at NYC's 19th Century Food Scene
Posted by nonabrooklyn on Jan 19 2012
"Ever wonder what New Yorkers actually ate in the nineteenth century? Chef Tom Kearney of The Farm on Adderley in Ditmas Park is hosting a 'Pre-Industrial Dinner' next week with historical gastronomist Sarah Lohman to shed some light on pre-industrial food, and on how Brooklyn fit into the larger network of farms and food distribution in the 1800s."  Read more.
Also from Nona Brooklyn: Cooking With Fire, At The Old Stone House: Historical Gastronomist Sarah Lohman On the Primal, and Practical, Fun of Open Hearth Cooking on April 20, 2012
***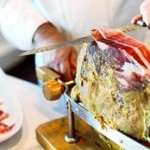 Ye Olde Menu: Dormouse, Anyone?
The Wall Street Journal, October 12th, 2011
By  Alina Dizik
"Sarah Lohman, founder of Four Pounds Flour, a blog devoted to 'historic gastronomy,' recently posted recipes for Baked Alaska and a tamale recipe dating from 1890s New York. 'We want to be eating the food that our forefathers ate,' Ms. Lohman says."
***
How to make money teaching your hobby to others
Brokelyn.com, Sept. 7th, 2011
by Andrew Linderman
"The best way to keep students from nodding off, says experienced instructor Sarah Lohman, is to make them feel important.  'If I am doing a lecture, I try to throw out thoughtful questions to the audience that call for opinion-based answers. That way, people can speak out without fear of giving a wrong answer,' says Lohman, who has taught a handful of courses on food and is also a lecturer at the Lower East Side Tenement Museum and periodic speaker at the Brooklyn Historical Society." Read more.
***
Edible: Historical Gastronomist Takes On Classic Recipes In Her Long Island City Kitchen
By Rachel Wharton
Aired on New York 1 on January 14th
"Rachel Wharton of Edible Manhattan traveled to Long Island City, Queens to the kitchen of Sarah Lohman, a historical gastronomist who took on the task of making ice cream from 1890.
"'This is the first time I've made it, so it could be a disaster; we'll find out,' Lohman says. 'But, to me, I'm more of a student of history and not an expert. I'm always learning, and finding out what's going to happen is part of the thrill."' Read more and watch the video here.
***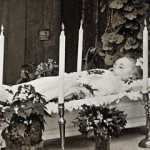 Photographs of the Dead Were Once Private Keepsakes: A Museum Exhibit Depicts Turn of the Century Funeral Rituals
ABC News, November 1st, 2010
By Karen Russo
""The idea that something as everyday as a dripping faucet could conjure up such a powerful image of death intrigued me," Lohman explained. "Life is a multi-sensory experience; I believe that invoking these senses to connect with people of the past is a very powerful teaching tool." Read More.
***
Gut Instinct: Bread Alone
The New York Press, October 27, 2010
By Joshua M. Bernstein
"With such an aversion to ancient bread, it's understandable that I didn't invite her to Park Slope's Old Stone House. On a recent rainy Thursday night, the historic structure hosted Bread and Beer, touted as a "New Amsterdam tasting menu." The event was the barley-based brainchild of Long Island City artist Sarah Lohman, who runs historical gastronomy website Four Pounds Flour. She dredges up 18thand 19th-century recipes, creating a form of culinary time travel.
'I love making something that was written down 300 years ago a reality,'explained Lohman, bustling around in an apron and big smile. Her event focused on Dutch foodstuffs that sailed over to New Amsterdam, now known as New York. Lohman researched and re-created five courses of bread, each paired with an equally antediluvian beer created by home brewers Chris Prout and Erik Olsen, of Greenpoint brew shop Brouwerij Lane." Read More.
***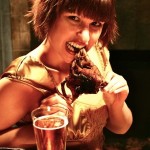 The Culinate Interview: Sarah Lohman, The Historic Gastronomist
On Culinate, October 4th 2010
By Leah Koenig
"What does history taste like? For Sarah Lohman, a New York City resident and self-described 'historic gastronomist,' that question is key to understanding the past.
With Culinate, Lohman talked about the importance of making history personal, her weeklong adventures with Jell-O, and which contemporary cookbooks she thinks will stand the test of time." Read more.
***
NOTABLE EDIBLES: The Cheese Stands Alone
In Edible Manhattan, September/October issue.
By Rachel Wharton Photographs by Michael Harlan Turkell
"That brittle bit of dairy also became the star of a recent Silver and Ash–themed supper Burson cohosted with Sarah Lohman, who blogs at fourpoundsflour.com….The night featured four courses pegged to Burson family memory and prepared by Lohman, each dish delivered with a story and a song from Burson. When her great-grandfather leaves home, you start with a schmear of that soft white cheese smuggled so long ago in his trunk. As Burson's grandmother Mimi leaves her parents behind in 1930's Germany, you savor her favorite meal: frankfurters, beans and German potato salad. When Burson talks about visiting Mimi as a child, you taste her always-in-the-freezer almond pound cake." Read More.
****
Food Culture Resources
On The Education of Oronte Churm
April 7th, 2010
"I started thinking about food's place in the academy after reading and becoming addicted to the nonacademic site Four Pounds Flour: Historic Gastronomy…Lohman brings to life that nearly-lost poetry, whether it's researching, cooking, and tasting Thomas Jefferson's port wine pudding (inedible, as it turns out, perhaps due to 18th-century chemical additives like isinglass), or recreating the roast bear from a menu for Charles Dickens's visit to New York (tastes like beef). For my money, the potential interest of her topic makes books about cooking one's way through Julia Child look like pretty weak tea."  (Read More)
***
Key Revolutionary War location serves historic era delicacies
On Examiner.com
By David Brezler on March 9, 2010
"New York City is, because of its crucial geographical location and relavence in terms of the nation's commencement, a place flooded with historically significant sites. Brooklyn's Old Stone House is one such place, and this past Sunday it was the scene of Sarah Lohman's (of Four Pounds Flour) adventure in pancake mastery to present flavors and cooking styles contemporary to the beginnings of the Old Stone House." (Read More)
***
Ye Olde Radar Range
On Edible Manhattan Blog
By Rachel Wharton on December11th, 2009
"Four Pounds Flour is the handiwork of Sarah Lohman, a city cook who digs up old American recipes (as in hundreds of years old, like LES tenement cucina povera meals or funky 18th century diet fare) and then makes them. That might not seem that impressive, but recreating the recipes of olde  is actually a difficult task: Consider that instructions are incomplete, can include the use of an open fire, and deal with old-fashioned measurements like a "do.," whatever that might be." (Read More)
***
Sunday: Learn to cook an 19th-century Thanksgiving
On Brokelyn.com
By Eric Reichbaum on November 20th, 2009
"Ever wonder what the pilgrims and Indians actually ate at that fabled first Thanksgiving? Queens-based historic gastronomist and blogger Sarah Lohman can probably tell you."(Read More)
***
Meet Brooklyn's Historic Gastronomist, Sarah Lohman
On The Village Voice Blogs
By Chantal Martineau on November 20th, 2009
"Ever wonder what people were eating at the turn of the century? …Sarah Lohman does every day. Her blog Four Pounds Flour chronicles her "retro-innovative" exploration of what people ate back in the day, from slave staples to French Huguenot desserts. Sound like the next big food blog-turned-cookbook deal? Um, yeah…"(Read More)

***
Four Pounds Flour: Historic Gastronomy
Craftzine Blog
By Becky Stern on October 21st, 2009
"I ate some of her Chocolet Puffs from the Haveymeyer Sugar Sweets Sale earlier this month, and they were delicious! If you like food and history, you might give her blog a follow."  (Read More)
***
My research has also been featured in Grillax, Bro on Slate.com and How to Come to Terms with Your Attraction to 'Fat Girls' on Vice.