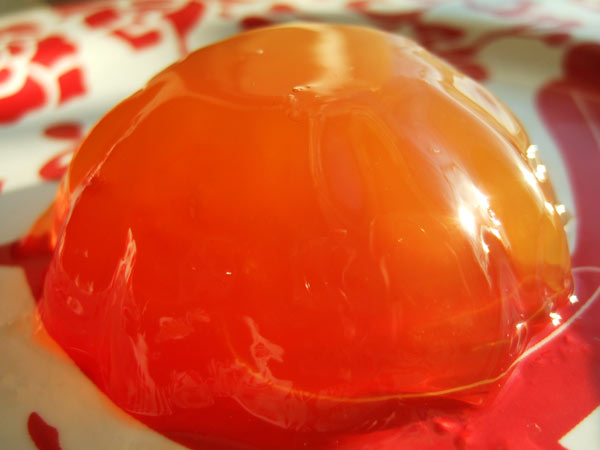 "Punch Jelly," from 1862.
My friend (and medieval textiles expert) Miranda brought this "cocktail" to my attention, by chattily asking me if I had ever tried the original Jell-O shot from Jerry Thomas' 1862 book How To Mix Drinks.  The answer was no, but I was astounded and delighted by the idea.
There are records of gelatinous wines and champagnes being concocted as early as 1800, but Thomas' recipe for "Punch Jelly" is made with spirits.  Essentially, it's a basic rum punch (which includes cognac and lemonade) with a gelling agent added: historically, this would have been calves' foot jelly or isinglass.  The former would have a hint of meaty flavor, while the latter, extracted from the swim-bladders of sturgeons, tasted remarkably of the sea.  I had neither lying around my kitchen the night I decided to make Punch Jelly; I used flavorless Knox gelatine instead.
I've made this recipe two ways: by following Miranda's proportions for the intricate lemonade that Thomas describes in his recipe; and by simply replacing this lemonade with Newman's Own Lemonade, which is delicious.  Either way, the punch jelly tasted about the same: strong.  My tasters and I agreed it was a little much…but by the end of the evening, 24 punch jellies had somehow made their way into the tummies of my guests.
Make these as a treat for your New Year's party; they aren't tasty enough to stand on their own, but your guests will be delighted to know that these are the "original": the great-great grandfathers of the carnival-colored, fruit-flavored, jiggly Jell-O shots of today.  There is a historic precedent.
And if you had any illusions that the people of the past were somehow better (classier? more morally upright?) than us, check out what Thomas has to say about Punch Jellies:
This preparation is a very agreeable refreshment on a cold night, but should be used in moderation; the strength of the punch is so artfully concealed by its admixture with the gelatine, that many persons, particularly of the softer sex, have been tempted to partake so plentifully of it as to render them somewhat unfit for waltzing or quadrilling after supper.
Ain't that the truth.
***
Punch Jelly
From How to Mix Drinks, By Jerry Thomas, 1862.
Originally adapted by Miranda, with some further variations on my part.
The juice of 3 lemons
1/3 cup sugar
1 1/2 cups water
1 cup cognac
1 cup dark Jamaican rum
2 packets unflavored gelatine
Make the lemonade by combining the lemon juice, sugar and water (or replace this with 2 cups store-bought lemonade).  Heat lemonade in a saucepan until it comes to a boil.  Remove from heat and add the gelatine, one packet at a time, by sprinkling it over the surface of the liquid and stirring until completely dissolved.  Allow to cool slightly, then add alcohols.  Pour into individual molds or shot glasses.  Makes approximately 16 shots.
***
There's a new book: The Jell-O Shot Test Kitchen: Jell-ing Classic Cocktails–One Drink at a Time.  I'm unashamed of my affection for Jell-O shots.  Ima gonna get this book.