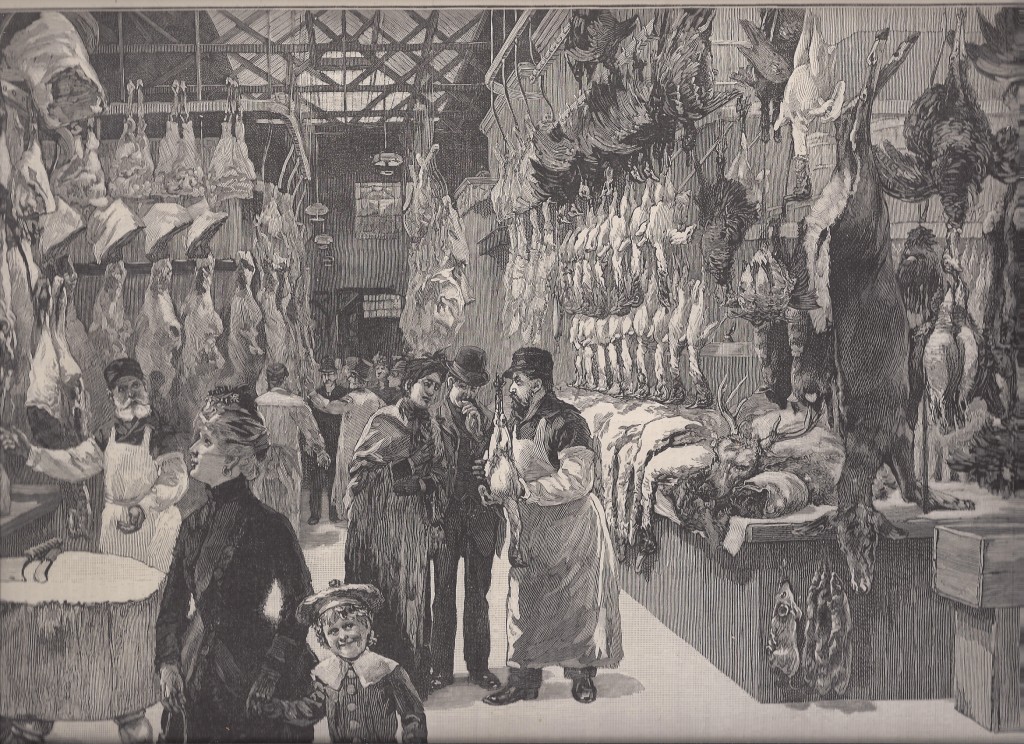 From Harper's Weekly, November 28th, 1885.
THANKSGIVING MARKETING.

The Washington Market of to-day is not the Washington Market of old.  It is a much fresher and more healthy-looking place than the old ramshackle affair of former years.  The Thanksgiving Eve surroundings of Washington market are, however, the same now as they have ever been.  The busy buyers of turkeys and other Thanksgiving Day edibles swarm about it like bees around a hive, and jostle one another in its narrow passageways.  Big turkeys and little turkeys hang, cold in death, from rows upon rows of cruel hooks, their plump or skinny, white or pinkish breasts decorated with little bright-colored rosettes, in mockery of the pitiless fate that has already befallen them, and the cruel mutilation which is to overtake them on the morrow.  Ducks and geese and chickens are piled in mounds on the zinc covered countered, and the carcasses of fallen deer hand from hooks, while banks of green-topped celery and rosy-cheeked apples lend color to the scene.  Small tradesmen fill up the spaces between the regular market stalls with appetizing stores of hares, rabbits, and other small game, and big butchers in iron-starched white or checked aprons move around like jolly warders at a fair.  At the street corners outside of the market little rosy-cheeked girls, and old women whose cheeks are no longer rosy, sit behind huge baskets of oranges and apples.

[In this image] The evening rush has not yet set in. Â A few hours later, and the passageway will be almost impassable, and there will be an indescribable confusion of sounds, as shrill-voiced women clamor for Thanksgiving bargains, and the vendors in the market cry forth the excellence of their wholesome wares.
If FDR had not declared Thanksgiving the fourth Thursday of the month instead of the last, November 28th would be Thanksgiving eve this year, too!