***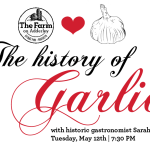 The History of Garlic: A Special Dinner at the Farm on Adderley
Tuesday, May 12th, 7:30 PM
$60 / person (+ beverages, tax & gratuity)
Sold out! To get on the wait list, send an e-mail to thefarmonadderleyevents@gmail.com 
Americans are fanatical about garlic. Not just as food, but as an alternative-medicine cure-all. Our contemporary love of garlic is an irony considering that through much of garlic's history its taste was considered repulsive. Not simply repulsive, but un-American. "Real" Americans a century ago, viewed Italian immigrants' love of garlic as a manifestation of their resistance to American culture. This beloved bulb was condemned and marginalized.
Join us for a five-course dinner hosted by historic gastronomist Sarah Lohman. We will eat garlic-focussed foods from our kitchen and dive into how garlic became a flavor so desirable that it managed to transcend xenophobia and became the most widely used flavor in American cooking.
***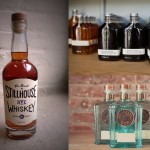 Distilling Brooklyn
Thursday, May 14th
Doors open 6:30pm. Event begins at 7pm. 
@ The Brooklyn Historical Society, 128 Pierrepont St, Brooklyn, NY
$12 General Admission / $8 for BHS and G-W Members
Three of Brooklyn's top distilleries share their personal distilling histories and look at the vibrant (and sometimes violent) history of distilling in Brooklyn. Moderated by historic gastronomist Sarah Lohman, tastings will be offered from the esteemed participants, Kings County Distillery, New York Distilling Co., Van Brunt Stillhouse, and Brooklyn Gin.
Buy tickets here!
Presented in partnership with the Brooklyn Brainery.
***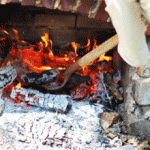 Campfire Cuisine Beyond Hot Dogs: An Introduction to Hearth Cooking
Saturday, May 16, 10:00am-2:00pm or
Monday, May 18, 6:00-9:00pm
@ The Old Stone House & Washington Park, Park Slope, Brooklyn
Tickets
In this hands-on class, you're going to learn how to cook a meal over an open fire.   But what you'll really learn are the primal cooking skills that will make you a better cook in your daily life.
We're going to cover the four basic cooking techniques: baking, roasting, frying and boiling.  While preparing a meal on an outdoor hearth, you'll learn how to tell temperature without a thermometer, how to tell the doneness of food by using all of your senses, and how to build a bad-ass fire.
The skills you will learn in this three-hour session will allow you to amaze your friends on your next camping trip; put on an old-timey costume and cook at a historic house; or simply become a better, more intuitive home chef.
The cost of the class includes a light meal you will help to make: A vegetarian soup; rusks, a fried bread; a grilled meat; and dessert.
Sold out!
***
Book me for a lecture, demo, tasting or another event!