Appetite City: Diners
I'm not old enough to know diddly about Schrafft's, the New York City restaurant chain, first hand; but everyone who does always remembers the cheese bread.   There's only one known recipe for the famous cheese bread and it looks like this: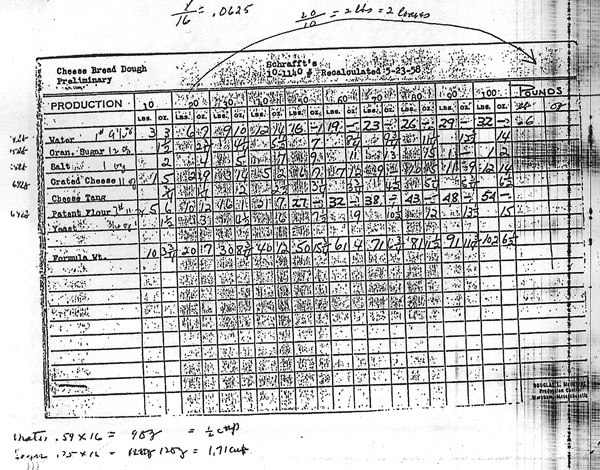 This document was dug up by Joan Kanel Slomanson, the author of When Everybody Ate at Schrafft's: Memories, Pictures, and Recipes from a Very Special Restaurant Empire
. Â It gives the proportions to make cheese bread on an industrial scale; it seems like it would be simple to just scale it down, right? Â Wrong! Â The problem is the mystery ingredient: cheese tang! So what is a cheese tang? No one seems to know, or remember. Â It was allegedly produced by Kraft, and some researchers have gone as far as to call the Kraft company and ask about it. Â No one has any memory of its existance. With the loss of cheese tang, Schrafft's cheese bread is gone to the ages. Hold the phone. Â Time to do some deductive reasoning. Â You know what else Kraft makes? Tang. Â Like, orange Tang, that went up with the astronauts. Â Tang is a bright orange, orange-flavored powder. Â So perhaps cheese Tang is a bright orange, cheese-flavored powder. Â Now in what Kraft product can one get bright orange, cheese-flavored powder?
This is my theory and I think it's a good one! Â At any rate, the bread made with Mac N' Cheese powder is phenomenal and will be devoured within minutes of exiting your oven. Â Should you have some left overs, toast it before consumption: it's best warm.
*** Â 
Schrafft's Cheese Bread
Adapted from the original Schrafft's recipe, as reprinted in When Everybody Ate at Schrafft's: Memories, Pictures, and Recipes from a Very Special Restaurant Empire by Joan Kanel Slomanson, published 2007.
1 package dry active yeast
1 ¾ cups warm water
2 tsp salt
1 ½ tsp sugar
1 tsp – 1/4 cup powdered cheese (depending on desired cheesiness); either from a Mac & Cheese box, or from 
online
3.5 cups flour
1 cup grated sharp cheddar.
1. In a large bowl, combine yeast and ½ cup warm water. Stir to dissolve yeast. Mix remaining water with salt; stir to dissolve.  Pour over yeast and set aside.
2. In another bowl, sift together flour, sugar, and cheese powder.
3. Add flour mixture to yeast and water, one cup at a time. Â When the dough becomes hard to stir, turn out onto a floured work surface. Â Let dough rest while you clean out the bowls.
4. Knead dough for ten minutes, adding more flour if necessary, until dough is smooth and elastic.  Up to another 1 1/2 cups can be incorporated here.
5. Butter a bowl and place dough inside; let rise until it has tripled in size, 2-3 hours. Â Punch down risen dough and turn out onto work surface. Â Sprinkle grated cheese all over. Â Roll the dough up and knead just long enough to incorporate cheese. Â Swirls of cheese in the baked loaf are not a bad thing!
6. Grease two loaf pans; plop dough inside. Cover each with a kitchen towel and let rise 45 minutes.  Preheat oven to 450 degrees.
7. Put loaves in oven. Â After 15 minutes, turn down heat to 350 degrees and let bake for 10 more minutes. Â Cool on racks.
***
P.S. – this bread is total munchies food!
A delicious loaf of cheese bread.