Raspberry Poke Cake.
My roommate had a day dream about this cake, one sunny afternoon whilst we watched Judge Judy.
"What if you, like, bake a cake and then poured Jell-O over top of it?  You know and like poked holes in the cake so it's all like cake and Jell-O?  Is that a thing?  Wouldn't that be delicious?"
"No, Jeff.  That sounds disgusting."
I thought this was the rambling of a mad man, until I went through my Jell-O ephemera for this project and I came across this 1976 pamphlet: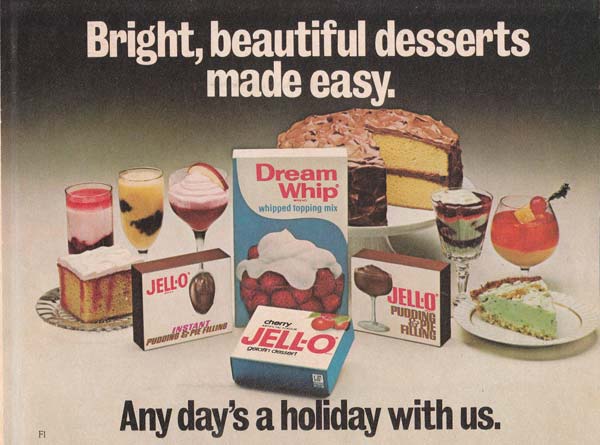 And this recipe for "Poke Cake":

Ok, Jeff.  You win. Let's give it a whirl.
So I baked a cake, poked it, poured raspberry Jell-O over top and put it in the refrigerator to set.  I used Cool Whip instead of Dream Whip for the frosting.  Then I cut a slice and took a bite.

Poke the cake with a fork, like so, then pour the liquid Jell-O over top.  It's a little like making a Tres Leches cake.
You know what? It tasted fake.  Fake cake; fake raspberry, fake whipped cream.  But the fake versions of all those foods…are really tasty.  I love box cakes.  I love Cool Whip.  This is the most delicious combination of fake flavors one can imagine.
Simple as hell to make, Poke Cake is trashy, tasty food.  Bring it to your next potluck.
***
And this being my last Jell-O post, it's time to ask What Have We Learned?  I learned that Jell-O can be turned in a shocking variety of foods — most of them bad.  Browse back through these posts: we went from ice cream to meat molds to cake.  It's sincerely impressive.
What have you learned?