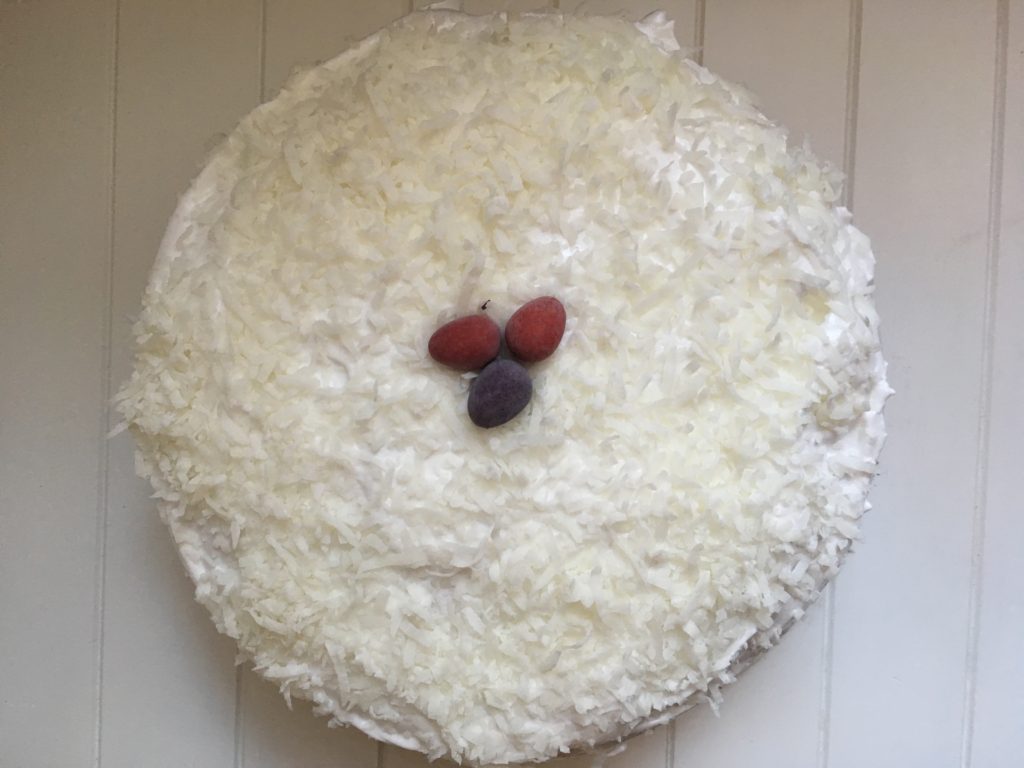 Orange and Almond Cake with Meringue Frosting and Fresh Coconut.
I have very few taste memories from my grandmother. Â By the time I was born, most of what she cooked came from boxes and cans, and there was an endless supply of Twinkies in the cabinet. Â But when my mother was a little girl, my grandmother would cook, and bake, from scratch.
My mother always talks about a cake that her mother made once a year, at Easter. Â A coconut cake. Â "It was so good," Â my mother said. "It tasted
best right after the frosting went on and the coconut was sprinkled on top. Â My mother made it from a real coconut. Â We had to grate it by hand. It was horrible.
"I think my mom would have used the recipe for yellow cake and white mountain frosting (I think it's also called 7-minute frosting) from the Settlement Cookbook.  Preparing a coconut is a bitch. I'm sure you'll find directions on the Food Network website.  Basically, you puncture the eyes with a hammer and nail, and then bake the whole coconut in the oven (I don't know at what temperature and for how long) until the shell cracks, and then you wrap it in a towel and hit it with a hammer until it breaks in pieces, and then you pry the shell off the pieces, and then you peel the tough outer skin off the coconut meat, and then you grate it.  I would have (roommate) Jeff do all that!

"The coconut goes on while the frosting is wet (she kind of swirled the frosting on). And you have to do it pretty fast because the frosting crusts over quickly.  The cake lasts a long time, but the frosting starts to–I don't know–dissolve after a couple of days."
One day, a coconut just appeared on the kitchen table in my apartment. Â I asked Roommate Jeff where it came from. "I dunno. I found it." was his response.
I took it as a sign: coconut cake would happen this Easter.
I started tonight, by attacking the coconut.  Mom was right, directions can be found on the Food Network website here (Thanks, Alton Brown!).  Preparing the coconut was somehow both extremely laborious and not as difficult as I has expected.  It took about three hours and tasted no different that pre-shredded coconut from a bag.
I have my grandmother's copy of  the Settlement Cookbook (the way to a man's heart!), and I paged through it, unable to find a yellow cake recipe, unsure if this was the right book at all.  I stumbled upon a recipe for coconut layer cake that suggested using the white cake recipe on page 424.  On 424, I found this:

That's my grandmother's handwriting. Â I love little notations in the margins of cookbooks–marks of personal preference and improved recipes. Â But usually I find these notes amongst the books and recipes of strangers, unearthed at flea markets and garage sales. Â Never had I seen such a cherished notation in my grandmother's hand.
Who did she write it for? Surely she could remember that she preferred orange zest, not lemon. Â Did she write it for my mom? Â For the future? For me?
I zested an orange. Â I beat the egg whites to soft peaks and set them aside, then sifted together Swan Cake Flour (a very old brand, still available) and baking powder, and set it aside, too. Â I creamed butter and sugar; then, with the mixer on low, I added the flour and milk, alternating between the two. Â I mixed until the batter was smooth, then added the almond flavoring and the orange zest; last, I folded in the egg whites.
My mother distinctly remembers this cake being baked in a plain square pan.  My grandmother would frost it right there in the pan; simple, easy and delicious.  I realized too late that I needed to double the recipe for my square pan; so instead, I baked it in a round, 9-inch pan. 375 degrees, for 20-25 minutes.  It came out of the oven looking perfect, despite the fact that I was tired and forgot to set a timer.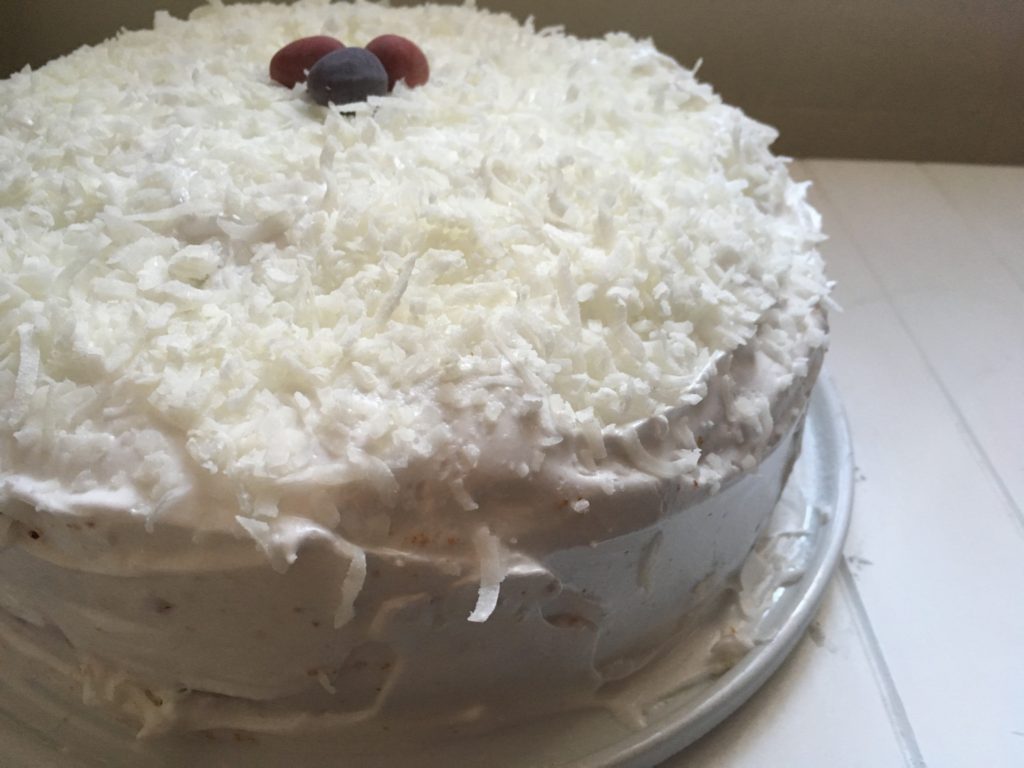 Here's the frosting:

I made the frosting a little different: I cooked the first four ingredients in a metal mixing bowl over a double boiler until the sugar was dissolved and the liquid was hot to the touch. Â Then I removed it from the heat and used my upright mixer to whip it until stiff peaks formed. Â I gently mixed in the vanilla last. Â After you frost the cake, sprinkle it with coconut immediately, before the frosting firms up.
The cake was a huge hit: despite the bounty of our Easter potluck, everyone managed to find room to cram in a slice of cake. Â It was fluffy and not too sweet and the orange and the almond was a great flavor combo. Â Guests were eating leftover frosting by the spoonful it was so good. The coconut was fine. Â Get it from a bag.