Valentine Cream of Vegetables, a recipe by Agnes Marshall.
Jell-O Molds. As beautiful as they are horrifying, we often associated these epic jiggly affairs with the kitsch mid-20th century. But today's recipe is from the 19th century: The Valentine Cream of Vegetables, a  Neapolitan-style frozen ice cream gelatin mold, uses savory vegetable purees to flavor each one of its colorful layers. It's a "…a nice dish for a second course or luncheon, or as a vegetable entree, or for a ball supper," according to Fancy Ices, where the original recipe can be found.
The History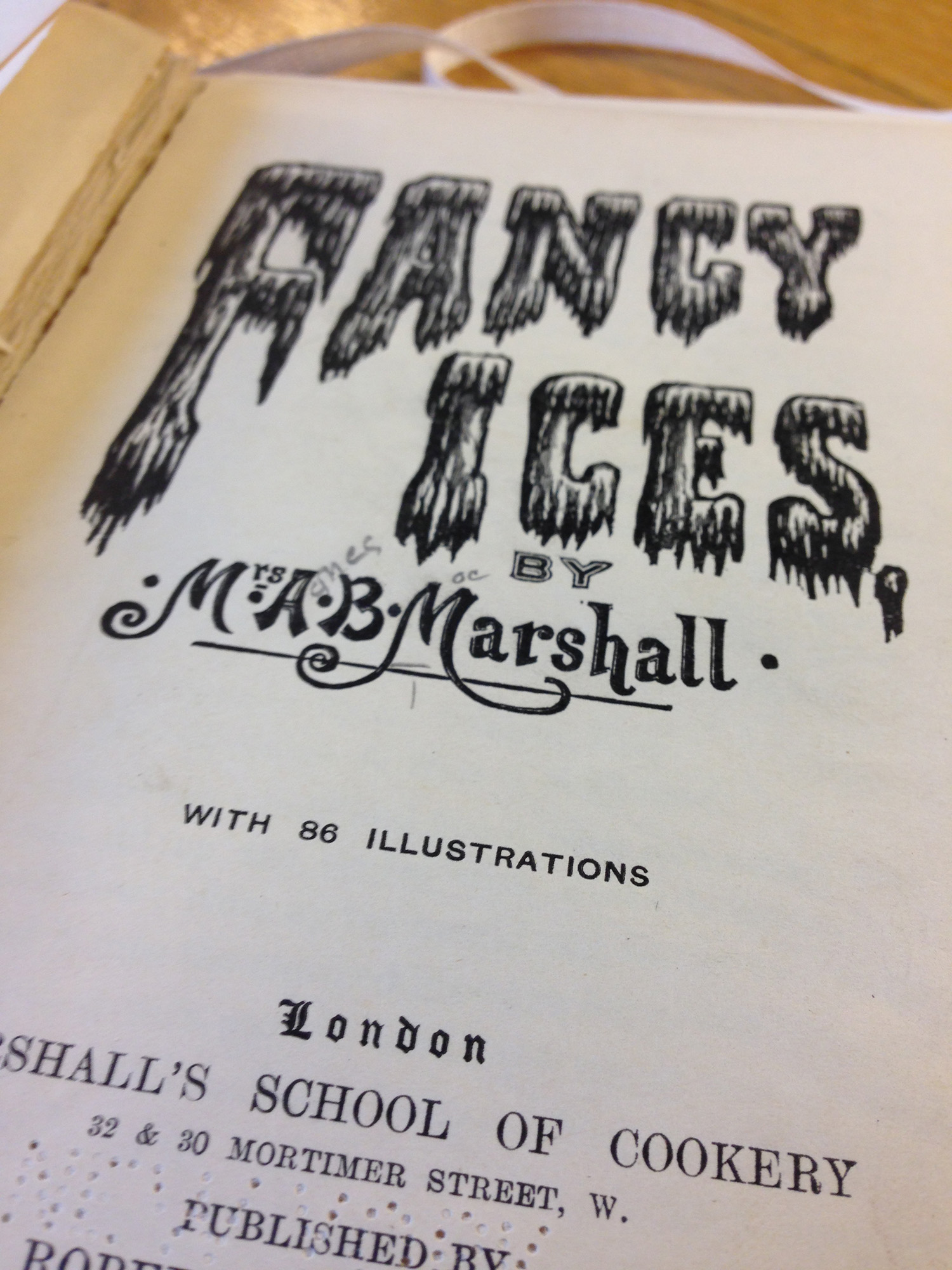 Fancy Ices was penned in 1894 by the brilliant Agnes Marshall. I've written about her before; she arguable wrote about the first use of ice cream cones, and suggested the use "liquid air" to freeze ice cream table side. Her earlier ice cream book, The Book of Ices, is available online or for purchase as a reproduction
, and offers recipes that range from almond (or orgeat) to souffles of curry a la ripon. Fancy Ices goes to the next level, showcasing recipes ranging from a coffee strawberry ice cream to a cucumber sorbet to complicated trompe d'oeil molds. It's a masterpiece that's thrilling to flip through. If you live in the New York area, Fancy Ices is available by off-site request at the New York Public Library's main reading room at Bryan Park. It's a special experience, unwrapping a book like this pulled from the archives, and physically flipping through pages and pages of recipes ranging from the inspired to the bizarre.
The Recipe
Full recipe here.
I heard of this recipe in Of Sugar and Snow: A History of Ice Cream Making, and excellent book particularly if you're looking for inspiration in the way of unique historical flavors. In this recipe, each of the layers is flavored with a different vegetable(s), stock and/or alcohols. You can read the lengthy and complicated original recipe here, but here are the basic ingredients by layer:
Green: Cucumbers, peas, white sauce (flour, butter, pepper), green food coloring, gelatin, chicken gravy, whipped cream.
Red: Tomatoes, shallots, red food coloring, stock, sherry, gelatin, whipped cream.
White: Canned artichoke hearts, chicken gravy, gelatin, white sauce, whipped cream.
The vegetables were boiled with gelatin until soft, and then run through a fine mesh strainer until all that remains is a smooth liquid, which is frozen in a rectangular mold a layer at a time.
Boiling the green vegetables.
Creating the puree.
The process was immensely labor intensive and I was fortunate enough to have my Mom in town to help me. When I enlisted her aid, she protested and asked why we couldn't do the lovely strawberry-lemon ice on the proceeding page of Fancy Ices. But let's be honest: that's not what you people want to see. You want to schadenfreude of artichoke-chicken ice cream.
The Results
Lacking a proper Neapolitan mold, we used a loaf pan. We allowed our creation to freeze solid and then carefully submerged to pan in warm water and ran a sharp knife along the side to released the Valentine cream. After some vigorous shaking, it came out PERFECT. Compare ours with the illustration in Fancy Ices:
Illustration of Valentine Cream of Vegetables from Fancy Ices.
My finished Valentine Cream of Vegetables.
Success. I feel like we recreated something that looks, smells, and tastes just like Mrs. Marshall intended. It is her vision made real.
But how did it taste?
My mom and I cut a slice and decked it out with the horseradish-mustard-mayonnaise Mrs. Marshall recommends. We ate it without complaint. The stocks, chicken gravies, and sherries made it taste like a cold, jellied soup. Not horrific, but not delicious.
This dish felt subtlety out of style, a particularly taste and texture combination that was just slightly unpalatable. Perhaps no one ever really loved the taste and the dish had always been more about status: time consuming and complicated, it required the full attention of two skilled cooks several hours to complete. Only someone wealthy enough to EMPLOY my mother and I would be serving this at their ball.
Although, Mrs. Marshall's Valentine Cream of Vegetables isn't so off trend in 2014. This summer, Haagen-Dazs Japan launched two vegetable flavored ice creams, Carrot-Orange and Tomato-Cherry; and new local ice creamy Odd Fellows has offered Edamame, Butternut Squash and Beet-Pistachio flavors.
What do you think? Have you had a vegetable-based ice cream and do you think they could have a place in the world of frozen treats?