I was in Washington DC last weekend and toured the What's Cooking, Uncle Sam? exhibit on now through January at the National Archives. Â It's focus is on how the government has affected what we eat. Â Overall, pretty interesting. Â Here were a few of my favorite facts:
BRED-SPREAD: Despite the 1906 Pure Food Law, "…unscrupulous practices continued. A photo collection features products such as Bred-Spread, a mixture of pectin, coal tar and grass seed marketed during the Depression. (source)" Â Bred-spread!
THE CIVIL WAR popularized mass-produced, canned food. Â Among 1860s soldier's meals were some brands still around today: Vancamp Pork & Beans; Underwood Deviled Ham; and Borden's Condensed Milk. Â Sounds like I need to have a "eat like a civil war soldier" week.
MARTIN VAN BUREN, a lover of French food, lost his reelection campaign to William Henry Harrison, who, according to his campaign, lived on a diet of "raw beef and salt."
DIGESTION STUDY, a photo I was not allowed to take a photo of depicted three, well-dressed, Victorian gentleman sitting around a table, rubbing their tummies. Â It was simply titled "Digestion Study."
***
Afterwards, my beau and I headed over to the America Eats Tavern a "pop-up" restaurant dedicated to the exhibit  "…featuring traditional American classics, celebrating native ingredients and spotlighting long forgotten dishes…" It's created by James Beard Award-winning chef  José Andrés and his ThinkFoodGroup.
Here's what my beau got to eat:
Mmmmm.
"Vermicelli Prepared Like Pudding, Philadelphia, 1802. Â The grandfather of today's mac 'n' cheese was first written down by Louis Fresnaye, a refugee from the French Revolution. Â One of America's first commercial pasta-makers, Fresnaye handed out this recipe with the coiled pasta he sold. (source)" View the original 1802 recipe here.
This dish did exactly what this restaurant is supposed to do: it presented a classic dish that we're familiar with, and showed it in its original, yet unfamiliar form.  Then, Andrés elaborated on it, while still strongly referencing the original recipe.  It was bursting with flavor: onions, cheesy, mushroomy.  Really amazing, a real success.
Here's what I got:
Hworf.
"Eggs a la Benedick. Charles Ranhofer, New York, 1894. Â Chef Ranhofer is thought to have developed this classic at his legendary Delmonico's restuarant for a patron, Mrs. LeGrand Benedict, who wanted something new for lunch. Â Ranhofer included this dish in his book The Epicurean in 1894. (source)" View the original recipe here.
What's that on top? Â That's fancy foam hollondaise. Â I don't like to condescend to modern cuisine, but my cat coughed up something similar when she drank too much milk.
This dish is a great example of where I think the restaurant is failing.
Ok, first off, why did I choose this dish?  Well, unfortunately for me, many of the dishes on the menu were seafood based; I don't eat seafood, and that's my fault.  But I do have to hand it to Andrés for including oysters prepared multiple ways, including the hangtown fry.  Very old-timey.
Second, the two dishes I really wanted to try weren't avaialable the day I went: one was Mock Turtle Soup, from Amelia Simmon's 1796 cookbook. Â It would have been so cool to try the 1796 recipe and mock turtle soup is a popular historic dish I have never seen on a menu or tasted before. Â But it was only available on Tuesdays & Wednesdays. Â The other dish, Kentucky Burgoo, was some sort of stew made from wild meats like squirrel. Â Also only avialable on Wednesdays.
So my choices were limited.  But I feel my Eggs a la Benedick is a prime example of the restaurant's main focus: Andrés found a historic reference for the origin of a dish, wrote an interesting tidbit about it on the menu, then went ahead and created whatever version of the dish he wanted to.  My eggs did not resemble the original recipe, nor were they an interesting riff on the original.  They were just eggs how Andrés felt like making them.
The dessert menu illustrates my point: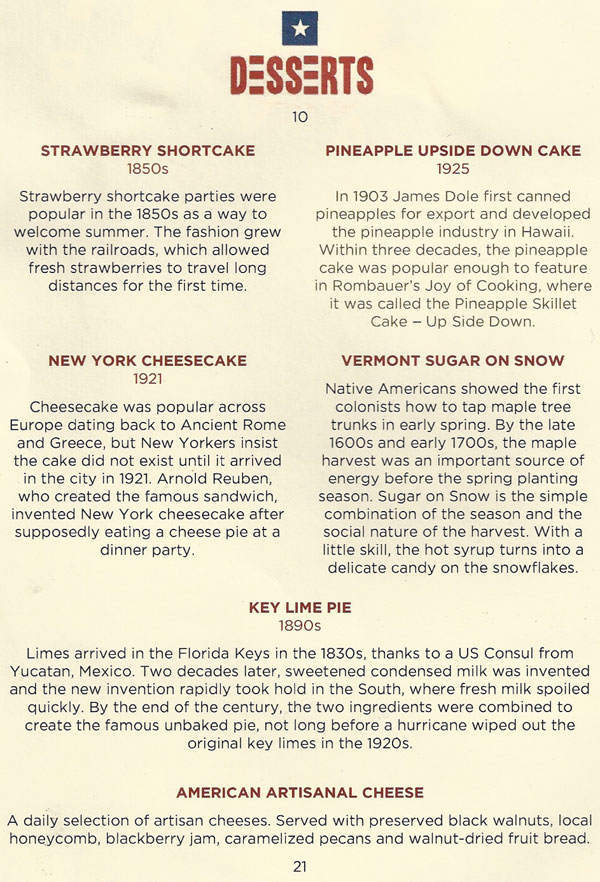 Lackluster, unsurprising, familiar dishes with no unfamiliar twist. Â Reading the menu is interesting, yes. Â But I want to learn my history through flavor.
Andrés is clearly a skilled chef, but I wish he had used his talent to create a concept that was more precise: the restaurant, and its message, felt all over the place.  The dishes on his menu were designed to be a survey of regional, traditional American cooking; but the exhibit was specifically about  how the government has affected what we eat.  The America Eats Tavern failed to connect me to the exhibit, when it could have provided another layer of depth.   As one critic pointed out, "…just imagine what the guy who pioneered the dragon's breath popcorn might do with the concept of the 'vitamin donut'."  Or bred-spread, for that matter.