A heaping plate of orange and cinnamon doughnuts.
When I was in Mexico City a few years ago, my favorite morning in the city was spent digging through a local flea market. The first thing that caught my eye when I entered the market was a yellowing composition book. The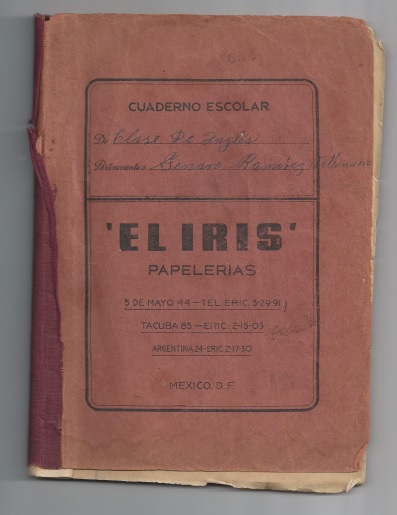 pages were handwritten, in Spanish, which I don't speak terribly well. But I could recognize the format: lists of ingredients, followed by directions. It was a recipe book, dated 1945.
"How much?" I asked the vendor in Spanish–I spoke enough to handle flea market haggling. The price was the equivalent of $20 American, a little expensive. The vendor immediately walked away, indicating there would be no discussion. There was no way I was letting this book go. It was fated for me. I dug into my pocket and handed over the money.
There are 19 recipes in the book, ranging from a very traditional Enchiladas Verde (Green Enchiladas) made with pork, Serrano chiles and cilantro; to a recipe for choux paste, the French batter for cream puffs; to Macarrones Endiablados, or Deviled Macaroni, a very mid-20th century sounding concoction of macaroni, tomatoes and deviled ham.
Frying the doughnuts.
The first recipe in the book is Rosquetas de Naranja, doughnuts flavored with orange zest and rolled in cinnamon sugar. This recipe is one of the best things I ever ever made for this blog. I live for reviving historical recipes like this one. They fry up crispy on the outside with a soft, cakey center; the orange flavor is delicate at first, then comes on strong and pairs perfectly with the cinnamon. One recipe makes the just the right amount for a party or brunch with friends; or, if it's just you, you'll make yourself sick eating them. It's impossible to stop. They are best devoured fresh and hot, so it's like your duty to scarf them right out of the fryer.
This recipe book was my prize souvenir from my journey. There are still a few more dishes I want to try from its pages, but these Rosquetas de Naranja are a true treasure that make me feel connected to an unnamed cook from Mexico's past.
Rolling the doughnuts in cinnamon sugar.
Rosquetas de Naranja: Orange Donuts
Adapted from a handwritten recipe book, dated 1945. Translation by Danielle Rodriguez.
1 lb Flour (about 4 1/2 cups)
3 teaspoons Baking powder
1 Orange, zested and juiced
3 Large Eggs
1 cup Whole Milk
¾ cup Granulated Sugar
1 stick of Butter, room temperature, cut into cubes.
Vegetable oil
Cinnamon Sugar: 1 cup Sugar and 2 teaspoons Ground Cinnamon
In a large bowl, sift together the flour and baking powder.
In a second bowl, whisk eggs, orange juice, and zest. Whisk in milk; then, stir in sugar until it is dissolved.
Using your hands, mix the butter and flour until it forms small pills.
Form a well in the center of the flour and pour in the wet ingredients. Using your whisk, form into a batter.
Fill a small electric deep fryer, or a saucepan with deep sides, with 2 inches of vegetable oil. The oil is ready when a dollop of dough immediately begins to sizzle.
Deep fry doughnuts until golden brown, flipping them once. Remove from oil with a slotted spoon and set the doughnuts on a plate lined with paper towels to drain. Allow them to cool while you add another batch to the oil, then roll doughnuts into cinnamon sugar. Serve immediately.
If you would like to download a PDF of the original cookbook it's available here, and Danielle Rodriguez's translation is here. Just let me know if you try any of the recipes!