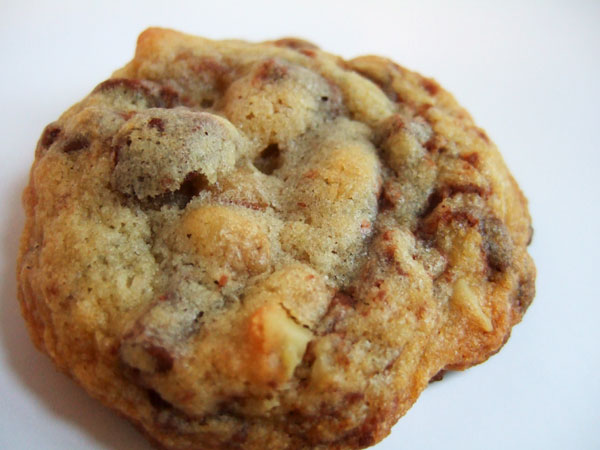 A chocolate chip cookie, baked from the original recipe.
During my recent experiments with chocolate, I got curious about the origins of the ultimate American chocolate dessert:  The Chocolate Chip Cookie.  Keep reading for the original recipe, which, in my opinion, is the perfect cookie.
Ruth Wakefield  is credited for the invention of the chocolate chip cookie at her Toll House Restaurant Whitman, Mass., "…a very popular restaurant that featured home cooking in the 1930s. The restaurant's popularity was not just due to its home-cooked style meals; her policy was to give diners a whole extra helping of their entrées to take home with them and a serving of her homemade cookies for dessert." (wikipedia)
The legend of the cookie's creation goes like this: "Wakefield is said to have been making chocolate cookies and on running out of regular baker's chocolate, substituted broken pieces of semi-sweet chocolate from Nestlé thinking that it would melt and mix into the batter. (wikipedia)"  I don't believe this explanation.  Baker's chocolate doesn't magically melt into cookie dough, so if Wakefield knew how to work with baker's chocolate, she would know that a semi-sweet Nestle bar would behave the same way. The legend makes her seem like a foolish little lady that made a silly mistake that magically turned into something wonderful.  I think she was actually an extremely talented cook with a brilliant idea.
Whatever the truth is, she sold her idea to Nestlé in exchange for a lifetime supply of chocolate (or so the story goes; I think she was probablly a smarter business woman than that).  Wakefield's cookie recipe was subsequently printed on the back of all Nestle's chocolate bars.  At first, Nestle included "a small chopping tool with the chocolate bars, but in 1939 they started selling the chocolate in chip (or morsel) form." (wikipedia).
Chocolate chip cookies are The Official Cookie of the Commonwealth in Massachusetts: http://www.malegislature.gov/Laws/GeneralLaws/PartI/TitleI/Chapter2/Section42
Wakefield released a cookbook in 1936, Toll House Tried and True Recipes, which features the original chocolate chip cookie recipe as "Toll House Chocolate Crunch Cookies."  The recipe, as well as the rest of the cookbook, can be found online here.  Below, here's the same recipe from the April 26, 1940 Chicago Tribune (from the food timeline)
Here's a new cookie that everybody loves because it is so delicious, so different and so easy to make. With each crisp bite you taste a delicious bit of Nestle's Semi-Sweet Chocolate and a crunch of rich walnut meat. A perfect combination. Here's a proven recipe that never fails. Try it tomorrow.
1 cup butter
3/4 cup brown sugar
3/4 cup granulated sugar
2 eggs, beaten whole
1 teaspoon soda
1 teaspoon hot water
2 1/4 cups flour
1 teaspoon salt
1 cup chopped nuts
2 Nestle's Semi-Sweet Economy Bars (7 oz. ea.)
1 teaspoon vanilla
Important: Cut the Nestle's Semi-Sweet in pieces the size of a pea. Cream butter and add sugars and beaten egg. Dissolve soda in the hot water and mix alternately with the flour sifted with the salt. Lastly add the cholled nuts and the pieces of semisweet chocolate. Flavor with the vanilla and drip half teaspoons on a greased cookie sheet. Bake 10 to 12 minutes in a 375 degree F. oven. Makes 100 cookies. Every one will be surprised and delighted to find that the chocolate does not melt. Insist on Nestle's Semi-Sweet Chocolate in the yellow Wrap, there is no substitute. This unusual recipe and many others can be found in Mrs. Ruth Wakefield's Cook Book–"Toll House Tried and True Recipes," on sale at all book stores."
A modernized version of this recipe can be found on the Nestle website, here.
The biggest problem in recreating the original recipe is the chocolate; I felt that chopping up a candy bar was an important part of the original process.  But nowadays, Nestle only makes semi-sweet morsels, not bars.  Nestle still makes milk chocolate bars, which I later found at Economy Candy, but for my first attempt at the recipe I had to use a stack of Hershey's milk chocolate bars.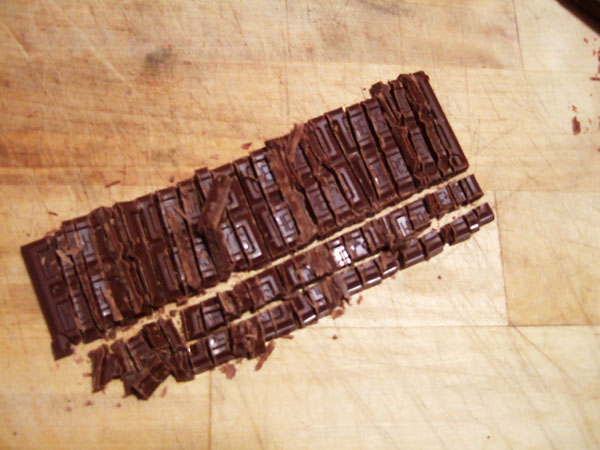 It was much easier to cut up the chocolate bar that I anticipated.  The recipe specified the pieces should be "the size of a pea," and I tried to remain faithful to that.  I used a large knife and the job was done in short order and with little effort.  The chopped chocolate smelled seductive and got me thinking: why are we restricting ourselves to the bags of chocolate chips in the baking aisle, when there is a bevvy of delicious, interesting chocolate bars available?  Hachez, a German company, makes dark chocolate bars infused with orange, blackberry, mango/chili, and strawberry/pepper.  Mast Brothers Chocolate, in Brooklyn, features a variety of carefully crafted dark chocolate bars of single origin cocoa beans, as well as bars sprinkled with sea salt and ground coffee.  Put that in your cookie dough and bake it.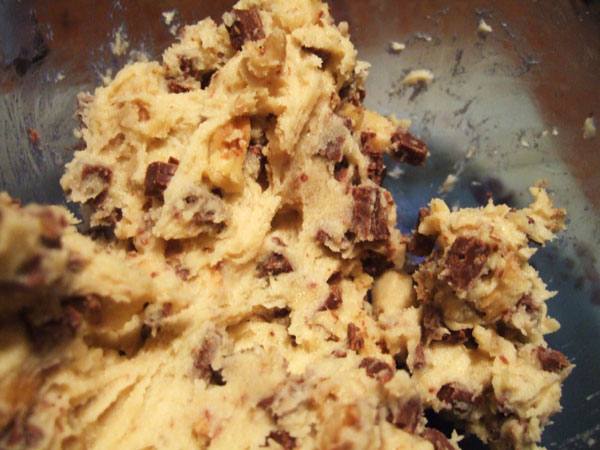 The dough mixed quickly and easily; it was baked and in my mouth in less than an hour.  The first bite of warm, melty cookie made me think of s'mores and brought back a flood of childhood memories.  The cookies were agreed to be perfect by all that sampled them: the best ratio of chocolate to nuts to everything in between.  Everyone was shocked to learn it was the first chocolate chip cookie recipe and wondered why it was ever changed.
For more on chocolate cookies, check out this recipe for one of the first known uses of chocolate in baking.