Tomato Soup Cake.  You'd never guess the secret ingredient. (it's love!)
Last summer, I spent a week dining on recipes from MFK Fisher's book How to Cook a Wolf. After I finished the project, there were two recipes I still wanted to try: Quick Potato Soup and Tomato Soup cake.  So I invited over a few friends and we dined.
Soup was first, served with buttered, fresh-baked bread: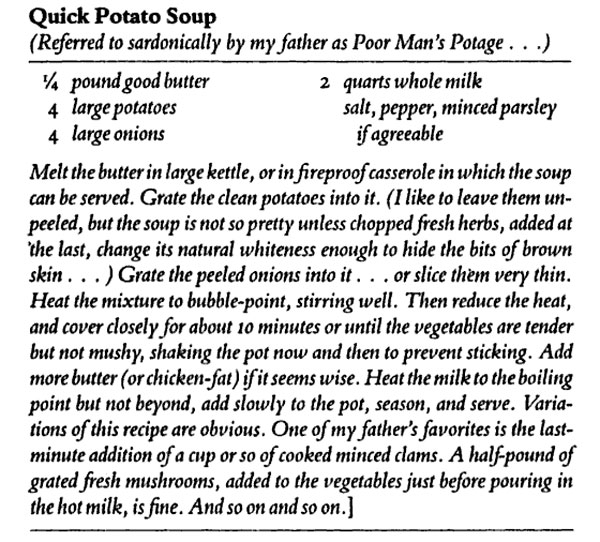 Modern technology has made this recipe easier: instead of hand-grating a million potatoes, I used an immersion blender.  I softened then onions first, simmering them slowly in a whole stick of butter.  Delicious.  Then I added the potatoes, cubed but unpeeled, and about a quart of water.  I brought them to a boil and cooked the mixture until the potatoes were fork tender.  I heated a quart of whole milk on the stove while I used my blender to puree the soup.  I left it a little chunky, 'cause that's how I roll.  I tasted the soup and added a generous quantity of salt and some pepper.
I used about 3/4 the amount of liquid that Fisher recommends; when I initially added the milk, the soup looked too thin.  But I let it bubble away on a low heat for about 30 minutes and it thickened up to a pleasant consistency.  This morning, the leftovers were souper thick, which is how I like it.
I served the soup topped with what I thought was flat leaf parsley, but was actually cilantro.  It didn't matter, it was really tasty.  I also sprinkled parmesan cheese over top, which put a nice finish on the soup.  Simple ingredients, simple preparation, and simply delicious: the qualities that Fisher's recipes are known for.
Potato and Onion Soup– one of the most perfect foods.
Dessert was Tomato Soup Cake: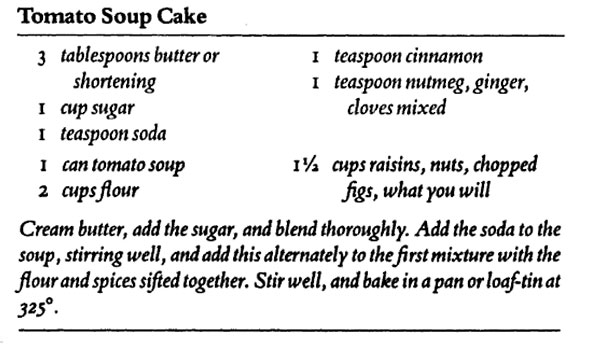 The "soda" is baking soda and can be whisked in with the flour and spices.  I left out the clove, which I find to be an overpowering flavor, and used a very satisfactory blend of 1 tsp cinnamon, and a 1/2 tsp each nutmeg and ginger.  My "what you will" was one fuji apple and 3/4 cup chopped walnuts.  And yes: I added one can of Campbell's "Soup at Hand" Classic Tomato Soup.
I didn't make the frosting of "cream cheese and powdered sugar and a little rum" that Fisher recommends, although it sounds awesome.  I made a glaze with confectioner's sugar and the juice and zest of a lemon.  Although the cake is great without frosting, too.
"This is a pleasant cake," Fisher says, "which keeps well and puzzles people who ask what kind it is."  I let my guests venture guesses as to the surprise ingredient.  They were nearly finished with their cake slices when someone finally said "Tomatoes?"  Initially, everyone dropped their cake in horror.  Then they found peace with the idea and wolfed the remainder down.
The cake was incredibly moist–shockingly most–without being heavy.  The spice blend was perfect.  Maybe you could taste tomatoes, but I'm not sure: I think it just added richness and depth to the other flavors.  And since the soup replaces milk and eggs, the cake is also vegan (as long as you use shortening, not butter).
I would absolutely, without a doubt make this cake again.