Nut Roast!
I kept breakfast and lunch simple today: oatmeal with soy milk in the morning; Â almond butter on coconut bread with banana slices for lunch. Â The coconut bread was really tasty, and also a throwback to the 1910 cookbook.
Cocoanut Bread – 1 lb. whole wheat flour, 1 lb. white flour, ½ lb. cocoanut meal, some cane sugar.
I used 1 cup of cane sugar for this recipe, and the coconut shreds I used were also sweetened. Â I also added 1 tsp of baking powder. Â The bread was delicious!
In the evening, I opened my doors to 13 guests ready to given veganism a try. Â Some were seasoned vegan veterans, some were hardened omnivores. Â The Menu:
First Course
Autumn Salad
Shaved Cabbage, Grated Beets and Apples, Mint, Lemon Juice and Toasted Walnuts.
Second Course
Semolina Soup
with Mizuna greens
Third Course
Pine Nut Roast
with Sauteed Spinach and Spaghetti Squash
Fourth Course
Continental Tart
Coconut Bread with Homemade Blackberry and Blueberry Lime Jam
or Malt Syrup
The first course was another salad recommended in Henderson's 1945 book. Â It was light, refreshing, and delicious. Â The second course was the Semolina Soup I made earlier this week, flavored with Marmite. Â Everyone was bowled over by the soup, and wanted the recipe to make it at home. Â I passed around the Marmite jar for everyone to ogle.
The third course was Nut Roast, adapted from the 1910 recipe I made earlier this week, with some adjustments according to Henderson's 1945 recipe. Â Henderson gives several suggestions as to how her basic recipe can be served; I roasted mine in individual portions, and served it on top of spinach and spaghetti squash.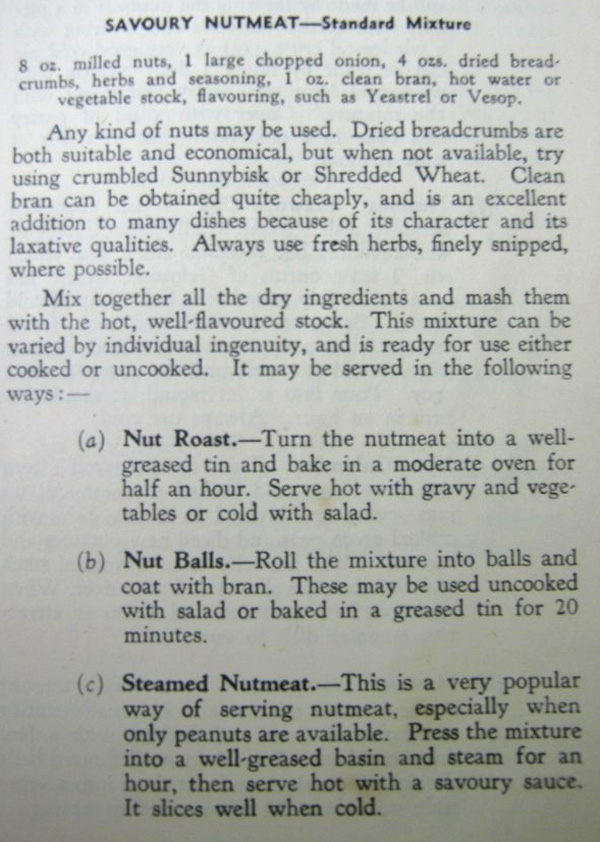 When I mixed this recipe, I simply put a bowl on top of my kitchen scale. I dumped the ingredients in one at a time and weighed as I went along. Â Below, is my adapted version of the recipe. Â I used dried herbs from my mother's garden.
***
Nut Roast
8 oz pine nuts, coarsely chopped if large.
8 oz bread crumbs
1 large onion, chopped
4 medium tomatoes, skinned and pulverized.
2 tsp garlic powder
1 tsp oregano
1 tsp basil
1 tsp sage
2 tsp parsley
1 tsp salt
1 tsp fresh ground pepper
1. Use hands to mix all ingredients, added a little water or vegetable stock if there is not enough liquid. Â Press into a pie plate or individual ramekins. Â Bake at 375 degrees for 20 minutes, or until the top is browned.
***
The nut roasts, cooked in individual star-shaped ramekins, delighted my guests. Â For the vegans, it was the first time they had ever had a nut roast, and were excited to try it. Â One guest, who went to school in Scotland, informed us that nut roasts are still a common vegetarian option, at least in her school cafeteria.
And for dessert, I served an apple Continental Tart, also from Henderson's book.
Continental Tart!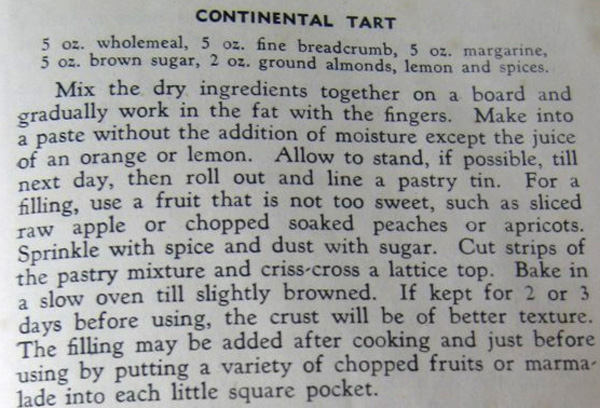 ***
Continental Tart
For the Crust:
5 oz. whole wheat flour
5 oz. breadcrumbs
5 oz Soy baking butter substitute
5 oz brown sugar
2 oz ground almonds (I ran almonds in my food processor until coarsely ground)
Lemon Juice
For the Filling:
6 medium baking apples
1/2 cup mixed, dried fruit
1/2 cup apple cider
1-2 tsp. cinnamon
1/2 tsp fresh ground nutmeg.
1. Combine all ingredients in a bowl, adding enough lemon juice to make a dough. Â Leave overnight in the refrigerator, then press into the bottom and sides of a round cake or pie pan. Â Bake at 375 degrees for 15-20 minutes, until crust is puffy and brown.
2. In the meantime, pare and core apples, and slice them into 1/4 wide slices. Â Cook, covered, over medium heat with spices, fruit and cider until tender. Â Pour into baked crust and set aside.
3. 15 minutes before serving, place tart in the oven at 375 degrees for 10 minutes. Â Allow to cool 5 minutes; cut and serve.
***
The tart was also a big hit, provoking inquiries about the contents of the crust. Â Margarine, I discovered, is not vegan! Â It has whey in it! Â So be sure to use a soy spread (or butter, if it doesn't matter to you.)
We had a second dessert of slices of coconut bread, spread with some of my mother's homemade jam (Blueberry Lime and Blackberry) or dribbles of malt syrup, which the vegans had never heard of before and were very enthusiastic about.
Our dinner table conversation turned to the origins of veganism, as well as why people do or don't go vegan today.  "It's not cheap," a vegan friend admitted.  "It can be very expensive to choose vegan products."  We went on the discuss that a lot of the methods that allow the cheap production of food are also the methods that can be deemed unethical, like caged hen production of eggs.  I pointed out that perhaps it was a policy change that was needed: "We'd all like to be buying cruelty free, hormone free milk, but I don't think anyone in my neighborhood could afford it."
"We don't need to drink as much milk as we consume," he answered. Â He suggested consuming less of a better quality, but that "…It can be different if we're talking about trying to feed your family of four."
The conversation danced around a variety of topics, but focused on the food, and ideals, at hand. Â There was a discussion about the "preachiness" and "pushiness" associated with veganism. Â  A dear friend and long-time vegan attended, who was the inspiration for the entire experiment. Â He piqued my interest in vegan cuisine without ever pressing upon me the ideals behind veganism; he let me start asking those questions myself, and I admire him for it. Â He amicable joked about the outspokenness of the vegan movement : "How do you know the vegan at a dinner party? Â Don't worry, he'll tell you."
We talked about the difficulties of finding vegan products: Â for example, learned that filtered wine is not vegan; it uses isinglass, an extract from the swim bladders of fishes. Â Animal products appear in the most unlikely of places.
And most of all, we talked about how delicious the food was. Â Everyone who attended, vegan, vegetarian, or omnivore all agreed the dishes were excellent, and asked for recipes for each one. Â All said they would make these foods again, just for the pleasure of them. Â And then my friend Emily rose to give a toast:
"Lohman," she said, raising a glass of vegan wine high, "Every time I get invited over for dinner, I'm always worried.  It's always like, 'come eat my beaver' or my bear or my vegan food or whatever.  And I always think 'Eeee…Well, at least the company will be good.'  But then I come, and the food is always, always delicious.  You have an amazing talent for making bizarre foods taste amazing."
We cheersed, and spent the rest of the evening guzzling bottles of wine. Â The next day, my boyfriend and I broke our vegan fast in the evening with sloppy joes and chocolate chip cookies.
There is a lot of debate, and  a lot of passion, surrounding the topic of veganism.  I've enjoyed this past week,  but I would not adopt veganism forever.  My line of work is food and I feel I would never want to limit myself in regards to what I can and cannot eat.  Additionally, I do believe an ethical, omnivorous diet is possible.  I will continue to respect and admire my vegan friends, and this project has inspired other to try out veganism:  my friends Sharon and Kathy are going vegan this week, you can follow their adventures here.
I think I'm going to leave it at that, but I'm really curious to hear from you, dear readers: What do you think of veganism?