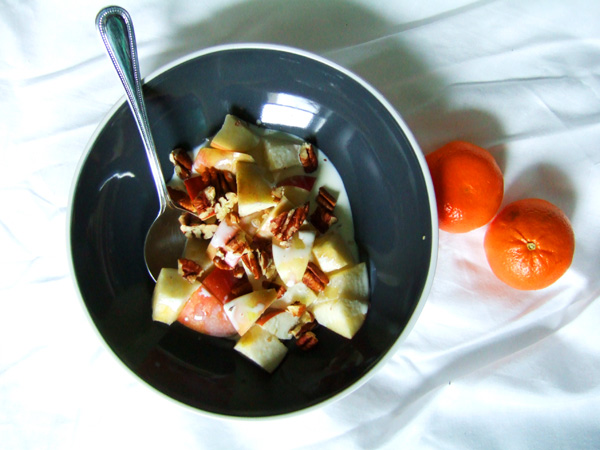 Breakfast
Sliced sweet apples with cream; pecans; protoid nuts; sliced oranges; dates; egg-nog
Tasty, filling breakfast!

Lunch
Pears; pecans; english walnuts; tomato salad with hygeia dressing; fruit wafers; cream cheese; turkish figs with cream; dates; milk
I ate a pear for a mid-morning snack, then put together this little lunch.  I couldn't figure out what they meant by fruit wafers, so I got banana chips, which now that I think about it, might be fried.  I'll have to try to pick up some dehydrated fruit crisps from somewhere.
Hygeia dressing is a mayonnaisey-type dressing with raw eggs; since I've have a raw egg prohibition, I found a light ranch dressing that didn't use vinegar, and I've substituted that instead.  Salad dressing and olive oil are the only two condiments I'm allowed to use.  Why, you ask?
The use of condiments, the pouring of some mixed-up mess of something over foods just before we eat them, in the vain hope of making them better, seems to be a sort of weird superstition….People will sit in a fashionable cafe, and dine upon an undrawn cold storage turkey, that has been a year dead, and pour over its ancient flesh a tar colored fluid that has been upon the shelf of a grocer several years, until it has reached that limit of delicious decay suggested by the green slimy mildew in Roquefort cheese.
Jesus.
Dinner
I abandoned my suggested dinner menu tonight because I was meeting a friend (Jess of Domestology!) after work.  Eating raw at home is one thing; trying to find appropriate foods in the world at large is another.  We agreed to meet at a vegetarian cafe in the Flatiron district–one that I've enjoyed even when I'm not on a restricted history diet–only to find that it was closed for good.  We wandered down 6th avenue, balefully searching for a place where I could eat.  Eventually, we ended up in a corner deli, where I ordered a veggie wrap.  I scraped a few cupfuls of shredded carrots out of the middle of a soggy pita.  It sucked, and really made me miss the flavorful food I've been eating.  Although the dinner was terrible, we had a great chat about the amazing embroidered book covers Jess been making (see them here).
After dinner, as I left to get on the train, I spied a Mr. Softee truck.  I remembered one of the foods that was on the suggested menu for today was ice cream.  So, a bit guiltily, I stepped up to the window and ordered vanilla soft serve in a cup.  It was cooked in the same way all the dairy products I've consumed this week are cooked, I reasoned.  I spooned it into my mouth on the train ride home, clasping the cup as though someone might snatch it away from me and deprive me of my treat.  Each mouthful was sweet, creamy and buttery.  I disposed of the empty cup before I got home.
When I walked in the door, I found my boyfriend doing dishes.  "Are you hungry?" I asked. "Do you need me to fix you something?"
"Hey," he said. "I don't think I'm going to be raw anymore."
"Oh yeah?"
"I don't feel like I've eaten anything this week.  I feel like I've just been snacking.  I miss cooked food.  But I want to support you!"
"Don't worry about it–it's ok, I understand if you want to quit.  But," I said, throwing my hands in the air, "I am powerless to fix you dinner."
So I'm on my own now, with three days left.