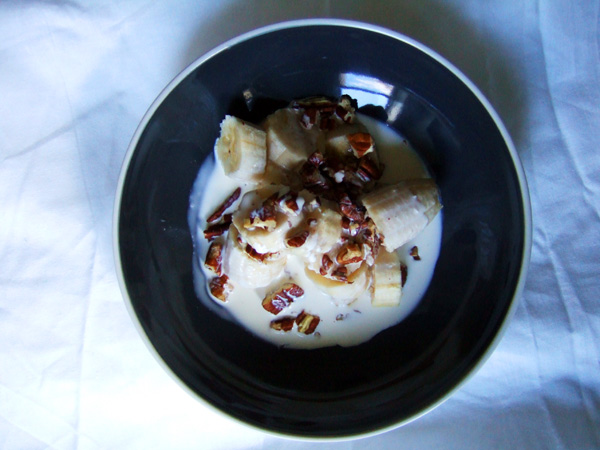 Breakfast
Sliced Banana with Thick Cream; Pecans; Protoid Nuts; Dates; Egg-nog
Woo-hoo, we're in the home stretch.  Only three more days!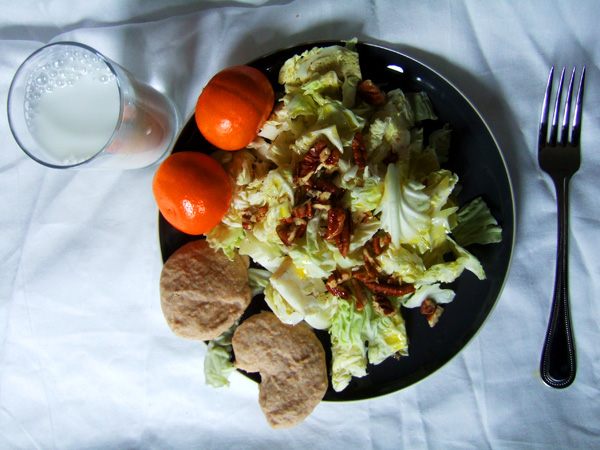 Lunch
Oranges; Pecans; Cold Slaw; Persian Prunes with Thick Cream; Unfired Crackers; Combination cereal; Dates; fig butter; protoid nuts; milk
I couldn't figure out what "combination cereal" was–I assume a mix of different grains–but I decided I didn't need it.  "Fig butter" is mooshed fresh figs, which sounds good to me, but figs are out of season.
I had a meeting at the Moore St. Market in Brooklyn, one of a series of markets built by Mayor Lagaurdia in the 1930s.  80 years ago, it served a largely Jewish population; today, the same neighborhood is Dominican and Puerto Rican.  I joined my friend at Ramonita's lunch counter, a popular Dominican restaurant, just as she was served a plate towering with mofongo, a dish made of mashed plantains and crispy pork skins.  I took one look at it and said "That is the first thing I've seen this week that I'm sad I'm not eating," and took out my bag of prunes to munch on.
Dinner
I again threw the normal dinner menu to the wind and went out to eat, this time with greater success than last night.  I joined a group of friends at Caravan of Dreams, a vegetarian/vegan/raw restaurant in the East Village.  Amongst those who joined me was Jeffery, who is always a vegan, and Kat, who also went raw this week in a show of solidarity.
I certainly had more choices at this restaurant than at any other time this week.  The table ordered two "live" appetizers, and I learned that "live" is just a more appealing word for "raw."  We got guacamole and salsa, which had big slices of cherry tomatoes and leaves of fresh herbs; and almond hummus with "chia chips," some sort of seed that has been pressed into chip form and dried again.  The appetizers were incredibly flavorful and my favorite part of the meal.
For my entree, I got a open-faced chili "burger," a mash-up of some things…grains, or something, I don't know, put back into burger shape and served on a chia cracker.  The sauces and sides that accompanied it were all very good, and the burger was especially flavorful.  It bursted with hot and spicy peppers, as well as more subtly, warm spice notes.  But there were textural issues: the burger was squishy and the cracker was crispy and it was impossible to eat without both exploding everywhere.
Dessert was thick slab of  "cocoa fudge." I don't know what it actually was made of, but it had the taste and texture of a powerbar.  I blame myself–I have a general prohibition on foods that masquerade as other foods.  Everything I've eaten this week has been in its natural form and I have enjoyed it for that reason.  But as soon as food is processed into something it shouldn't be–whether that be a chia chip, raw burger, or an unfortunate slab of cocoa fudge–the expectations of what it pretends to be outweigh what is actually is.  It's never as good as you want it to be, but a mere substitution instead.