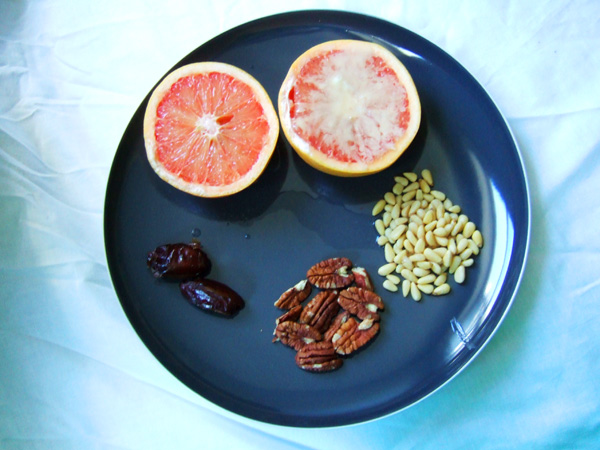 Breakfast
Grape Fruit or Oranges; Pecans; Protoid Nuts (Pine Nuts); Dates; Whipped Eggs; Milk  +Raw Honey
Uncooked Foods gives some general guidelines for portion size: one large fruit, 2-3 smaller fruits, an ounce of nuts.
I've decided I'm not going to eat raw eggs:  Salmonella didn't enter eggs until the 1970s ( New York Times article about it here), so raw eggs were a lot safer when this cookbook was written. I didn't drink milk because my boyfriend drank it all the night before.
I drizzled raw honey over my grape fruit. Â Raw honey is unpasteurized and minimally filtered, and has no additives. Â It is solid at room temperature, and does need to be heated slightly to use it. Â From what I understand, the sugar crystals are larger which also gives it a murky appearance. Â It can also contain beeswax, pollen, and even bee pieces, if you have really fresh stuff.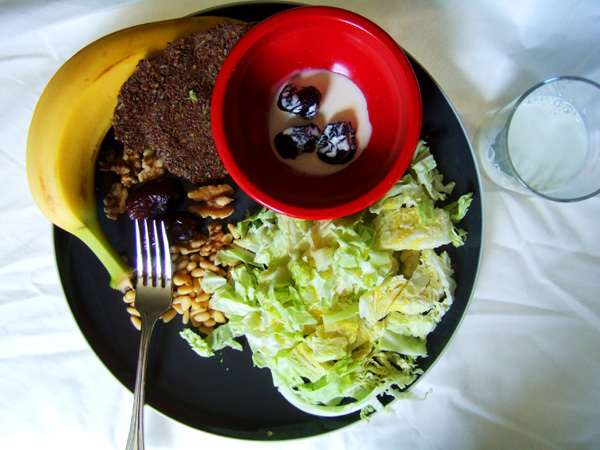 Lunch
Bananas (ripe); English Walnuts; Protoid Nuts; Unfired Crackers; Dates; Cold Slaw with Olive Oil; Persian Prunes with Cream; Milk +Raw Sea Crackers
"Cold Slaw" is just shredded cabbage, which I doused will olive oil, and mixed up with the pine nuts and walnuts. Â It was quite tasty and I ate it very happily. Â The authors of Uncooked Foods mention that they have tried to provide food combinations that taste good together in the mouth. Â I also added Raw Sea Crackers, because I haven't baked any "Unfired Crackers" yet. Â They came from the raw section at Whole Foods, and they're some combination of flax seed and sea weed. Â The blurb on the back of the package mentioned the company's founder turned to a raw diet after she was diagnosed with multiple sclerosis, and it has helped her manage her disease. Â Looks like people are still turning to raw diets for a cure.
Uncooked Foods has some interesting things to say about milk: first, it says that good milk should have 12% milk fat, which is equal to Half and Half by today's standards. Â So, that what I drank: about four ounces of half and half, and it was sweet and delicious. Â  Here's what Uncooked Foods has to say on the subject of milk:
The custom of cooking or sterilizing milk, due to ignorance is little less than criminal. Cooking milk is recommended by certain alleged dietetic authorities on the ground that it kills bacteria. They probably forget maybe do not know that all the five digestive fluids are strongly germicidal. The bacteria that may exist in milk, of which so much fear is entertained, could not live an instant after coming in contact with the gastric juice which is strongly aciduous, to say nothing of contact with the saliva bile and pancreatic and intestinal juices.
I've been asked if I'm going to consume raw dairy during this diet, and the answer is no.  I've got a bug up my butt about unpasteurized milk, and I will never stop linking to this article on swill milk to explain it.  Milk in the 19th century was filled with tuberculosis, amongst other things, and was a major contributor to the high infant mortality rate, particularly in New York City. Early veganism, which was contemporary to the raw foodists, rejects milk because of its association with disease (read more about that here).  In fact, in the chapter in Uncooked Foods on meat, it points out that 36% of cows have TB.  And TB does not die when it hits gastric juices.  So the milk I will be consuming will be pasteurized.
There is a raw milk movement in America today; Edible Manhattan just had a great article about it.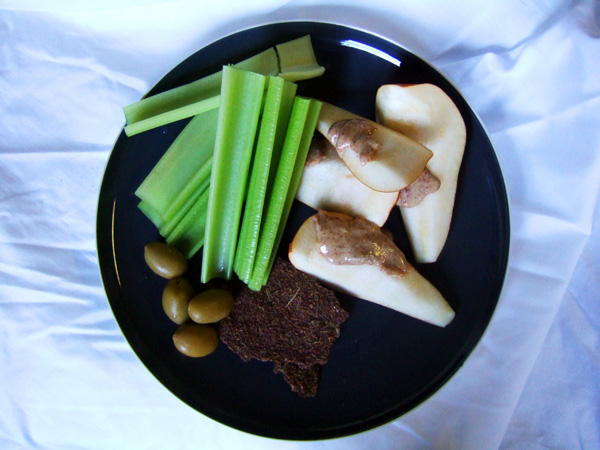 Dinner
Pears; Pecans; Black Walnuts; Ripe Olives; Celery; Flaked Wheat, Dates, and Cream; Unfired crackers; Combination Nut Butter; Fruit Jelly with Whipped Cream; Dates; Egg-nog
I felt like I had had enough nuts for one day, so I just had raw almond butter spread over pear halves. Â I also ate the olives, which I don't normally like, with the celery; it was a delightful flavor combination. Â I had rolled oats, cream, and dates for an evening snack–I haven't been able to find flaked wheat, although Bob's Red Mill makes it, so oats will have to do.
As I walked through my neighborhood today, I felt particularly tuned in to the smells of cooking food. Â Someone nearby was grilling outside and the scent of fat steaks sizzling above hot coals curled around corners and into my nose. Â From the open door of a bakery, the sweetest smells wafted out, of cakes and pastries and other delights. Â Then, carried on a breeze, I smelled the complicated spices of curry sauces, savory and inviting.
But when I returned home, I munched on my pear slices and felt satisfied.  As Uncooked Foods says, "The best foods need the least preparation."
…Right?