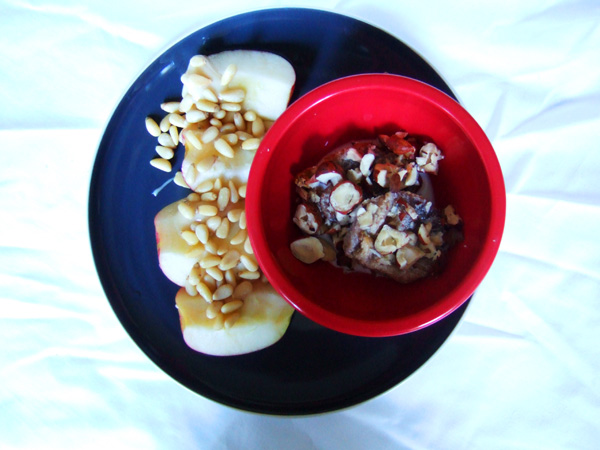 Breakfast
Apples; Protoid Nuts; Filberts; Turkish pulled figs with cream +Raw Honey
I sliced my apple and smeared it with raw honey, then sprinkled the pine nuts over top.  The filberts–hazelnuts–I added to the figs and cream.
I would normally have a cup of tea with my breakfast, and two to three more throughout the day.  But Uncooked Foods advises against it:
It is impossible to keep alive the appetite for such stimulants as tobacco, fermented and distilled liquors, tea and coffee when the body is correctly fed.  A being who subsists upon clean elementary foods would have no more desire for stimulants and narcotics than a horse or a dog would have for a Manhattan cocktail.
In the end, it will be nice to break my caffeine habit.  But currently, I'm experiencing bouts of extreme drowsiness and headaches.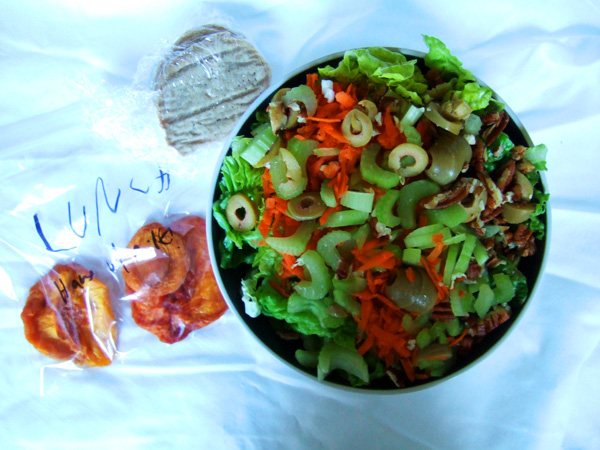 Lunch
Pecans; Olives; Vegetable Salad with Hygeia dressing; Unfired Crackers; Sweet Butter; Evaporated Peaches and raisins; Milk
I made most of my ingredients into a big salad, and packed the whole thing up for lunch.  The biscuits I'm eating are miserable little things:
Bread forms a very important part of the uncooked menu, but its production is not practical in the home, where this book is intended to be of greatest use, as it requires special machinery for flaking and grinding the different grains and nuts of which it is made. It also requires a special electric light oven for drying during the winter when the rays of the sun cannot be utilized.

To meet conditions that exist, we make an exception here and give two recipes for bread that requires cooking, but is unfermented.
I haven't quite figured out why the book dislikes fermentation.  The recipe that they give for "unleavened gems" is 3 cups whole wheat flour to 2 cups cold water and 2 tablespoons of fat.  Then "Take up on a spoon and work all the air possible into the batter by vigorous beating two or three minutes in the open air."  I had the benefit of my electric mixer.  I baked them for ten minutes at 400 degrees, and the result was something less edible than silly puddy.  I will suffer through them for another day or two, then I think I'm going to switch back to the raw crackers from Whole  Foods.
Dinner
Oranges; Apples; Pecans; Protoid nuts; Ripe Olives; Lettuce; Flaked Oats, Dates and Cream; Unfired Crackers; Sweet Butter; Fruit Salad; Egg Nog.
I had a very long day at work, so I ate dinner there, too–and forgot to snap a photo.  It was more of the same: a large salad with some fruit and unleavened breads.
Despite my kvetching, I've been generally very satisfied with my meals.  The food is good and fresh, and extremely healthy while remaining delicious.  I feel full at the end of a meal.  But I'm extremely flatulent.