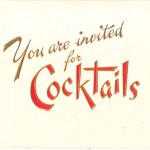 Don't forget, tomorrow night is Out of the Bathtub, the Repeal Day event hosted by the Waldorf-Astoria and Four Pounds Flour! Â The event is from 6-8, and is in the W-A's elegant bar, Peacock Alley. Â For the ticket price of $45 you'll get plenty of eats, plus four historic and historically inspired cocktails: Â The Bagpiper (a Scotch drink), The First Class (with Old Tom Gin), The Middleton (Rum and Genever), and The Waldorf, the hotel's classic bourbon cocktail. Â You'll get four drink tickets, so you can mix and match your cocktails any way you like.
Cocktail attire is required, so feel free to get fancy (and optionally old-timey).
Tickets are for sale at the bar, but gaurantee a spot by sending me an RSVP at outofthebathtub@gmail.com.
See you tomorrow at 6!