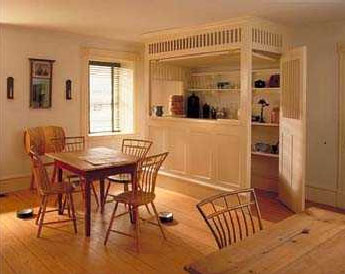 I'm doing a cocktail event in early May at the Mount Vernon Hotel and Museum. They have an incredible 1830s fully-restored bar; so we're going to be serving authentic 1830s drink, food, and playing games all in an authentic setting!  Come drink and have a generally good time.  More info below, and buy tickets here.
Tavern Drinks and Diversions: An evening of 19th century carousing
Thursday, May 12 at 6:30 PM
The Mount Vernon Hotel Museum & Garden
421 East 61st St., New York, NY

$35 Adults, $30 Members. Buy tickets 
here.
Learn the fine art of toasting (and roasting) while enjoying historic cocktails with "historic gastronomist" and artist Sarah Lohman of the Four Pounds Flour blog.  Guests can enjoy three different 1830s imbibements in the Museum's fully restored tavern room and period appropriate bar, including the original Cock-Tail and a glass of Punch made with rum, citrus, and green tea.
A light tavern supper will be available, including cold meats, game, and fresh bread with butter, served with homemade pickled walnuts and mushroom ketchup.
Ms. Lohman will also lead participants in parlour games sure to delight all that are assembled. Space is limited, so 
Buy Tickets Now!