Thursday, September 15th
Rewriting Recipes with Historic Gastronomist Sarah Lohman
7:00 p.m. @ The Brooklyn Historical Society, 128 Pierrepont Street at Clinton Street Brooklyn, New York
$8 Members/$10 General Public   Purchase your ticket here.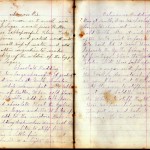 Perhaps you found a box of ancient handwritten recipes cards at the Brooklyn Flea. Maybe, you have your grandmother's cookbook, gathering dust on the shelf. Or perhaps you simply enjoy browsing Google books to page through cookbooks from 100 years ago. Why aren't you cooking from these recipes? These treasures from the past are valuable resources to draw inspiration for a contemporary kitchen. Sarah Lohman is here to help you negotiate the difficulties of translating historic recipes. In Rewriting Recipes, she'll use BHS's historic Lefferts Family cookbook to teach how to interpret historic recipes. Lohman will unveil tricks to modernize these recipes for today's kitchen: how to interpret amounts, flesh out directions, and find comparable ingredients. Most importantly, she'll show how to pull inspiration from these recipes to create unique contemporary dishes. Feel free to bring your own vintage and historical recipes to share.
This event is part of BHS's Brooklyn Food Stories. Advanced ticket purchase recommended as the event will fill up. Tickets: $8 BHS members/$10 non-members. Purchase your ticket here.