Right: I pose in fish fin earrings at the Last Supper Festival; in the background, my photographs are on display.  It was so exciting! Photo by Will Heath.
I took a little break from my Wolf posts, but don't worry: the food has been cooked, eaten, and will materialize in blog form this week.  I had to postpone my posts because of all the events I was fortunate enough to be a part of this past weekend!
I spent several days constructing jewelry from real sea food for The Last Supper Festival.  There was so much fun edible art at this event: Bloody Marys (Jell-o Molded Bloody Mary flavoured Virgin Marys, served on a vodka soaked cucumber), the Bread Bed (also delicious–with convenient drawers underneath for knives and butter–and so comfortable), and much, much more.  Photos from the event coming soon.
Then, I attended the swanky opening for Momento Mori at the Merchant's House Museum.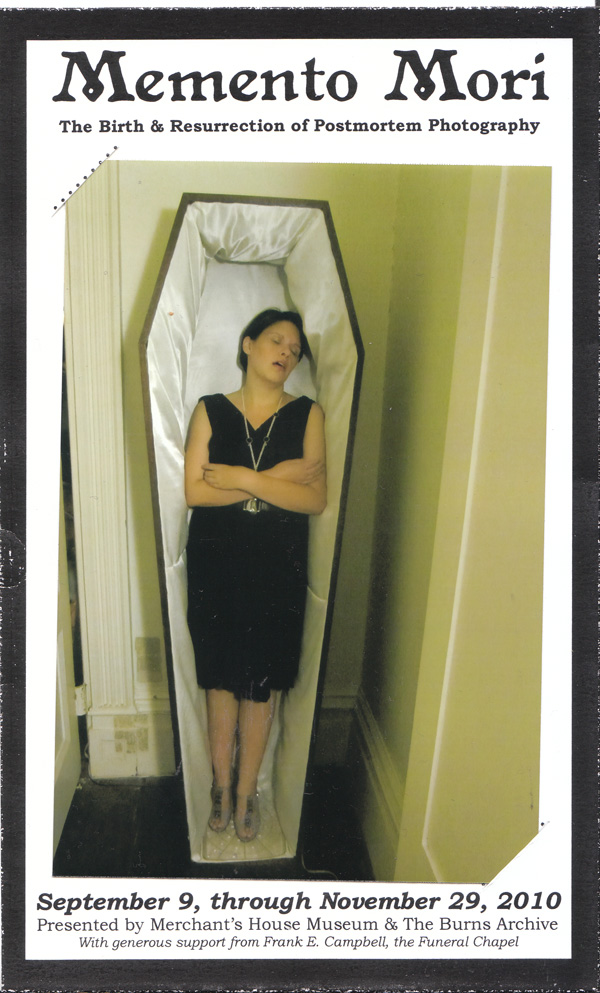 Enough said.
And this weekend–more great events!  Stalk me on Saturday and Sunday and I'll fill your maw with tasty historic treats!
***
Saturday, September 25th, 11am-3pm
Vintage Snacks and Historic Baseball
Old Stone House of Brooklyn, 3rd St at 5th Ave
As part of the Historic House Trust's Movable Feast, the Old Stone House of Brooklyn is hosting two vintage baseball games (1864 rules!) and I'll be there vending period-appropriate ballpark snacks.  Stop by to munch on three types of Popcorn Balls (Molasses, Maple, and Rose), Hot Ham or Tongue on Buttered Cornbread, Hot Chocolate (1864 style with cinnamon, cayenne, and ginger), Apple Cider and Lemonade.
***
Saturday, September 25th, 6pm-7:30pm
Imagining Seneca Village
Meet at Summit Rock, Central Park, New York, NY
83rd street and Central Park West, near the Natural History Museum
To build Central Park, the city had to disband Seneca Village, a squatter's town far north of the city limits comprised of African Americans and Irish immigrants.  The village was in existence until the late 1850s and was a thriving community for those that were considered to be on the fringes of society.  This 90-minutes tour will teach you what it took to survive in rural Manhattan; I'll be doing a presentation on food-ways, with samples of heirloom vegetables and heritage pork.
***
Sunday, September 26th, Noon-2pm
New York City Apple Day: Apples on Orchard
Orchard Street between Broome and Grand
Visit me at the Lower East Side  Tenement Museum's booth at Apples on Orchard.  I'll be there with free treats: different immigrant food ways that combine old world traditions with new world techniques and ingredients, including Apple Johnny Cake and Apple Kugel.  Apples have been provided by a generous donation from Red Jacket Orchards.