This is the season for fun food events! Check out the gin cocktail party I'm doing at the Old Stone House on June 10th: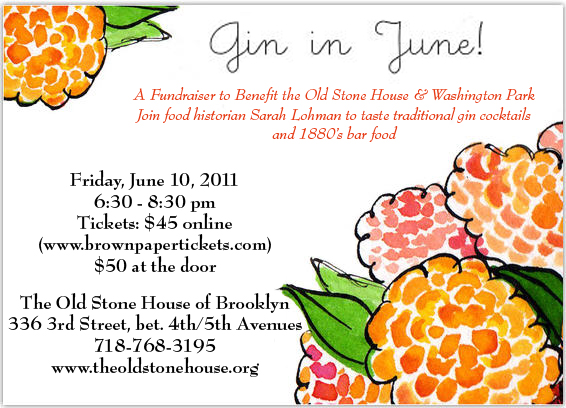 Gin in June: An Historic Gin Tasting at the Old Stone House
Friday, June 10th at 6:30pm
5th Ave. at 3rd St., Brooklyn NY
Purchase tickets 
here
.
Join us for an evening of historic cocktails at a fundraiser to benefit the Old Stone House & Washington Park!
Food historian Sarah Lohman will present a flight of traditional gin cocktails.  Guests will sample four gins, including two historic gins and two contemporary gins distilled locally in Brooklyn.  Lohman will speak on the history of each liquor and mix it into a cocktail from the past.
While guests sip on a Gin Sling or a Martinez cocktail, they can also graze on 1880s bar food:  Fresh bread and butter, Pickled Walnuts, Mushroom Ketchup, Beef Tongue, Roast Beef, Pickled Pig's Feet and Ham.
So come drink in history while supporting a local park and museum.  Purchase tickets 
here!