Two great events coming up this week!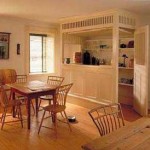 Tavern Drinks and Diversions: An evening of 19th century carousing
Thursday, May 12 at 6:30 PM
The Mount Vernon Hotel Museum & Garden
421 East 61st St., New York, NY

$35 Adults, $30 Members. Buy tickets
here.
Learn the fine art of toasting (and roasting) while enjoying historic cocktails with "historic gastronomist" and artist Sarah Lohman of the Four Pounds Flour blog.  Guests can enjoy three different 1830s imbibements in the Museum's fully restored tavern room and period appropriate bar, including the original Cock-Tail and a glass of Punch made with rum, citrus, and green tea.
A light tavern supper will be available, including cold meats, game, and fresh bread with butter, served with homemade pickled walnuts and mushroom ketchup.
Ms. Lohman will also lead participants in parlour games sure to delight all that are assembled. Space is limited, so
Buy Tickets Now!
***
Waffles @ Wyckoff
Sunday, May 15th at Noon
5816 Clarendon Road, Brooklyn, NY
Free, first come first serve.
Join us on Sunday, May 15, to enjoy, experience and learn about the Dutch contribution to gastronomy!
Sarah Lohman of http://www.fourpoundsflour.com/ will be discussing Dutch contributions to food! Join her to make your own waffle over an open fire using a real "waffle iron" and an old Dutch recipe until 3 pm or the waffle batter runs out!
This will be the first in series of four events at the museum entitled "Historic Gastronomy at the Wyckoff Museum."
Look out for our next event! Sarah will be making and serving old Wyckoff family recipes! Fun and filling for the whole family.