Saturday, October 15th
Alice, or the Scottish Gravediggers: An Evening of Victorian Medicine and  Cocktail Bitters.
6pm-8pm @ The Old Stone House, 336 3rd Street, Brooklyn, NY
FREE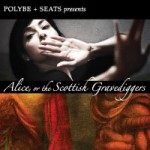 Polybe + Seats theater presents  a preview of Alice, or the Scottish Gravediggers in part with a bitters tasting with Historic GastronomistSarah Lohman.
Premiering in late October, Alice is an 1829 melodrama about a penniless orphan who works as a maid in her aunt's inn and is torn between two suitors.  She subjects her body to mysterious experiments at a nearby medical school in exchange for treatment for her wounded beloved, a medical student himself.  At this event, you'll get a preview of the play's gothic set design, music, and art as well as a taste of how Victorian medicine begot the modern cocktail.
Arrive at six for a talk on the link between cocktail bitters and old fashioned medicine. Â Afterwards, mix and mingle while sipping a bitters-focused cocktail, featuring Original Sin Hard Cider. Â Then, attend a bitters tasting from local makers, and watch a demo on how to make your own bitters.
Attendees will receive a coupon for discounted admission to the premiere of Alice, or theScottish Gravedigggers.
This event is part of Open House New York and the Historic House Trust Festival Weekend.