Thursday, September 1
Timeline of Taste with Historic Gastronomist Sarah Lohman
7:00 p.m. @ The Brooklyn Historical Society, 128 Pierrepont Street at Clinton Street Brooklyn, New York
Tickets: $8 BHS members/$10 non-members. Purchase your ticket here.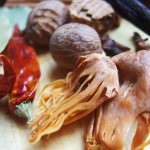 Have you ever noticed that the names of Greenpoint's streets bring to mind exotic locales? From Java to India, these Brooklyn roadways took their names from the distant countries that brought spices from the Far East to America's shores. Once a major port for trading ships,Greenpoint can be used as a guidebook to explore the history of American food through flavor. When did American palates favor one spice over another and why? When did ships stop bringing mace and start carrying vanilla beans?
In A Timeline of Taste Sarah Lohman will take you on a journey from 1800-1950, making a pit stop every fifty years to explore the tastes of a particular time. You'll get to smell and sample the spices, fruits, extracts, and other ingredients that defined the flavors of each time period. From rosewater to vanilla, nutmeg to cinnamon, citron to reddi-whip, Sarah Lohman will discuss why these flavors were popular and how they were used in day- to-day cooking.
This event is part of BHS's Brooklyn Food Stories. Advanced ticket purchase recommended as the event will fill up. Tickets: $8 BHS members/$10 non-members. Purchase your ticket here.