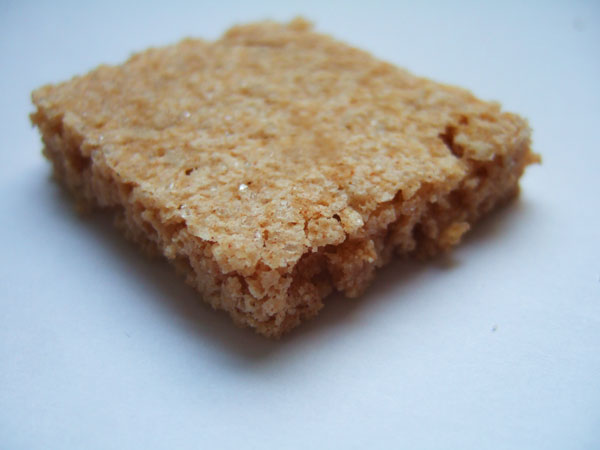 Proto snickerdoodle?
I know I've been doing a lot of baking recently. Â But it is Christmas and all I want to do is jam my maw with sweets. Â So welcome to Cookie Week!
On Sunday, I appeared on the Heritage Radio Network's show We Dig Plants, talking with hosts Carmen Devito & Alice Marcus Krieg about the salacious history of cloves and cinnamon.  Listen to the full 30 minute show for free here.
I got curious about the history of the Snickerdoodle cookie: when we're talking cinnamon in baking, the Snickerdoodle is king.  For those of you that don't know, the Snickerdoodle is a crispy combination of cinnamon and sugar.  No other baked good features the flavor of cinnamon so prominently.
I began poking around for a little information on the origin of the Snickerdoodle.  There's some vague sense on the internet that it was invented in the 19th century, but there's a lot of back and forth about where the name came from: what German word it descended from, what cookies were called Snickerdoodles before.  To me, that's unimportant.  What's interesting about the Snickerdoodle is that it's just a cinnamon cookie.    No bells and whistles. No currents. No rosewater.  No 50 spice blend.  It's a cookie entirely different than all other 19th century cookies.
So I went to Feeding America, an online archive of the most important cookbooks of the 19th and early 20th century cookbooks, and I punched "Snickerdoodles" into the search. Â No hits. Â This usually a bad sign, as it often indicates a recipe did not evolve in the 19th century. Â Then I shortened my search to just "doodle," and got this:

Not only does this appear to be a proto-Snickerdoodle recipe, but it also seems to indicate that the cookie came before the contemporary name.
So I put the Snippodoodle to the test.
What makes this recipe unique is that its baked in a sheet, then cut, as opposed to a modern Snickerdoodle which is rolled into a ball and dipped into cinnamon sugar. Â My cookies did not come out thin and crispy, as the recipe suggests, but cakey and a little chewy. Â I should note that I made one major substition: I starting mixing up my batter only to discover that I was out of milk. Â I had already been to the deli once to get eggs and I just couldn't convince myself to go back out into the cold. Â I opened the fridge: I didn't have milk, but I did have homemade, boozey, creamy eggnog. Â Done and done.
***
Snippodoodles
From Good Things to Eat by Rufus Estes, 1911.
1 cup white sugar
1 tablespoon butter
1/2 cup milk (or eggnog)
1 medium egg
1 cup flour
1 teaspoon cinnamon
1 teaspoon baking powder
1. Preheat oven to 325 degrees.
2. Sift together flour, cinnamon, and baking powder (or just throw it in a bowl and whisk it if you're lazy like me).
3. Whisk together milk and egg.
4. With mixer on medium speed, cream together butter and sugar for 30 seconds. Â Scrape bowl.
5. Add milk and eggs; mix until combined.
6. With mixer on low, slowly add flour mixture. Â Mix until fully combined.
7. Using a spatula, or buttered fingers, spread/press the mixture into a 9 x 13 baking pan. Â It will seem thin, but don't worry. Â It's supposed to.
8. Bake thirteen minutes. Â Remove from oven and allow to cool for 20 minutes. Â Slice into squares and remove to a rack to cool.
***
Delicious? Yes. Â Does the Snippodoodle surpass the modern Snickerdoodle in texture in flavor? Â No. Â It's a good cookie, but not an improvement. Â However, is substituting eggnog for milk in a cookie recipe a good idea? Â Yes, it's an awesome idea. Â And I think that's a lesson we all can learn.