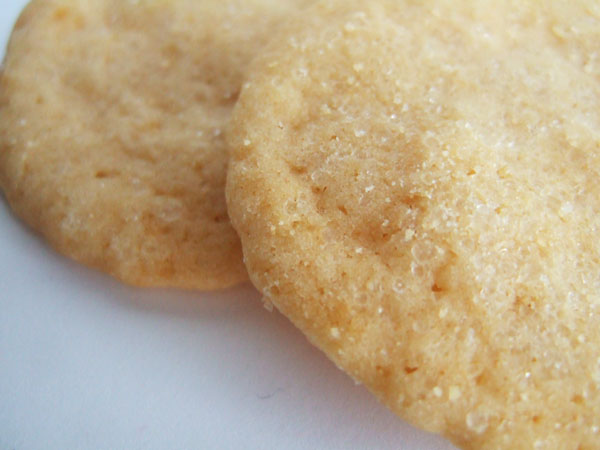 These cookies: they are AMAZING.   You will become addicted to Maple Sugar Cookies.  You will NEED them.
The original recipe can be found
here
, in the 1909 edition of the 
Good Housekeeping Women's Home Cookbook
.  I love maple– not maple flavoring, but real maple sugar.  The cookies use 1 cup granulated maple sugar plus 1 cup sugar; you can play with the proportions for a less sweet combo, but the general consensus amongst my taste-testers was that the sugar level was good.  Rolled out thin and cut into shapes, these cookies bake up perfectly crispy, with a melt-in-your mouth buttery texture, and with an absolutely ideal maple flavor.
Maple sugar, by the way, can be purchased off the
King Arthur Flour website
.  8 oz. is enough to make 1.5 recipes.  I had never seen ground maple sugar before–it's powdery and dusty and not at all what you'd expect.  But a few dollops of maple flavoring are NOT a good substitution.  If you want to make these, get the real thing.  It's imperative.
Out of all the cookies I baked this season, these cookies were the hands-down favorites.  Make them today.  It will divide your life into the time before Maple Sugar Cookies and after.
***
Maple Sugar Cookies
From The Good Housekeeping Woman's Home Cook Book. Arranged By Isabel Gordon Curtis, c1909.
Recipes adapted for the modern kitchen by Karen Lohman.
(Makes 8 dozen two-inch cookies.)
1 cup (2 sticks) unsalted butter, at cool room temperature
1 cup granulated sugar
1 cup granulated maple sugar (purchase
here
)
2 large eggs
1 tsp. vanilla extract
3 ½ cups all-purpose flour, spooned into cup and leveled
2 tsp. baking powder
1/4 tsp. salt
1. Preheat oven to 375°. Adjust rack to middle position. Line cookie sheets with parchment or lightly grease.
2.Whisk together flour, baking powder, and salt.
3. Cream butter and sugar with an electric mixer at medium speed until light and fluffy, two minutes.
4. Add vanilla and eggs, one at a time, beating until well combined, scraping down bowl after each addition.
5. Stir in ½ of the flour mixture just until combined. Do not over mix. Stir in the rest of flour mixture.
6. Chill dough until firm, 2-4 hours, or overnight.
7. Work with one quarter of the dough at a time. Return unused portion to refrigerator. Generously flour pastry board and rolling pin. Roll dough 1/8 inch thick, checking frequently to be sure dough is not sticking.
8. Cut with a shaped, 2-inch cookie cutter, dipped in flour. Place one inch apart on baking sheet. Bake at 375° for 9-10 minutes, until deep golden brown around edges. Cookies are fragile. Cool 3 minutes on baking sheets before moving to cooling rack.
***
By the way, Four Pounds Flour is two years old!  Thank you friends, old and new, for continuing to encourage me to write.  The blog has grown so much in the past year and I have loved every moment.  Writing here has changed my life; I hope, at least, it has been fun for you, too.