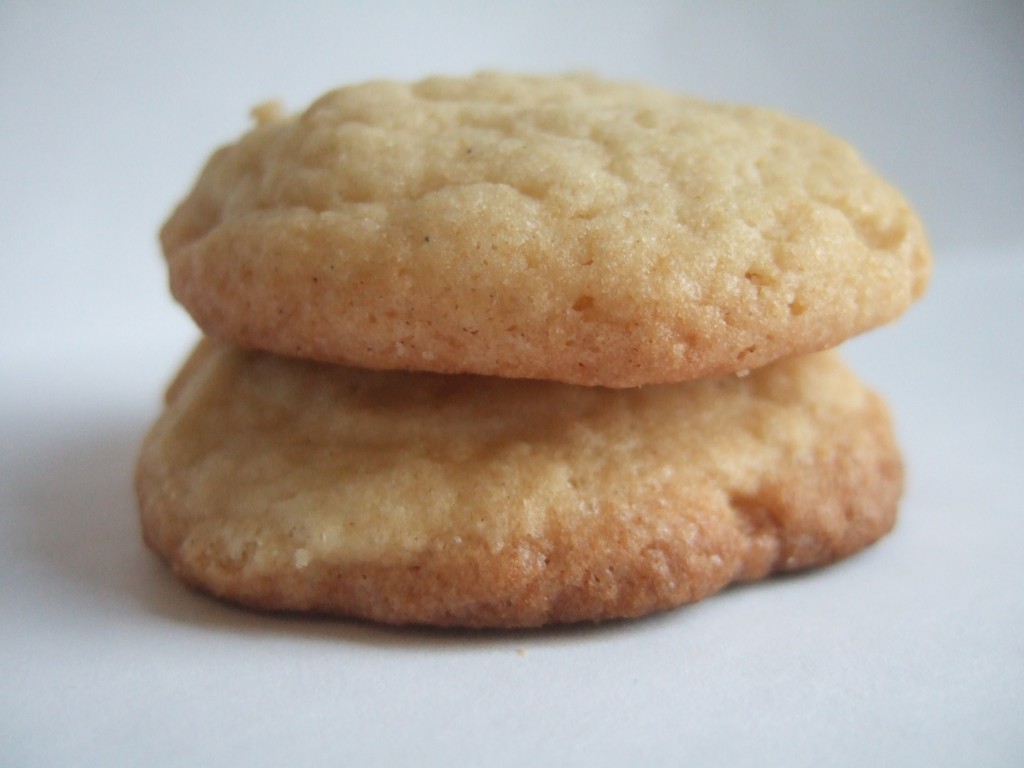 This will be the last post for Cookie Week, which will hopefully also allow me to stop devouring cookies.  I'm on holiday vacation through New Years, so my consumption of holiday treats is slackening at a snail's pace.
But if you are going to make one more sweet this season, I'd recommend  these cookies.  They taste beautiful. 
The original recipe is fairly complex.  Here: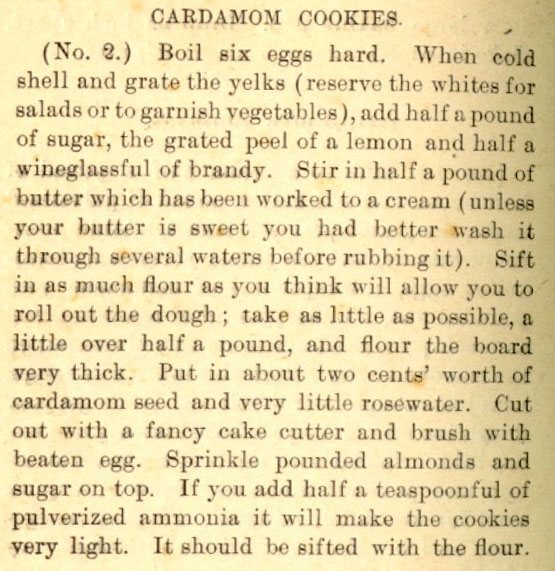 If anyone has an explanation for the grated boiled eggs yolks, I'd love to hear it.  Has anyone ever seen anything like it in a recipe before?  When my mother and I were doing some holiday baking, we experiemented with this technique in another cookie recipe and the result was revolting: dense, dry cookies with a distinctly hard-boiled taste (although roommate DK loved them).
But what I loved about this cookies recipe was the flavor combination: cardamom, rosewater, and brandy.  Definitely 19th century but daring to the modern pallette.  I decided to focus on the flavors of the recipe, not the technique, and retronovate a modern sugar cookie recipes to incoporate a taste of the past.
***
Cardamom Rosewater Cookies
Adapted from "Aunt Babette's" Cook Book by "Aunt Babette", c1889.
Modern recipe derived from Martha Stewart's Cookies.
3 cups all-purpose flour
1 teaspoon baking soda
1/4 teaspoon salt
1Â tsp ground cardamom
1 1/2 cups granulated sugar
1/2 cup packed light-brown sugar
1 cup unsalted butter (2 sticks), softened
2 large eggs
1 tsp rosewater
1 tsp brandy
Zest of one lemon
Sanding sugar, for sprinkling
1. Preheat oven to 350 degrees. Whisk flour, baking soda, cardamom and salt into a bowl; set aside. Beat eggs with rosewater, brandy, and lemon zest; set aside.
2. Using an electric mixer, beat sugars and butter at a medium speed until pale and fluffy. Add eggs until mixed. Scrape down bowl with a rubber spatula
3. Reduce mixer speed to low and gradually add flour mixture. Mix until just combined.
4. Scoop dough into a Ziploc bag or sheet of plastic wrap. Form into a ball and refrigerate for at least an hour.
5. Either roll dough into 1 inch balls and place on a baking sheet; or, roll and cut cookies.  On a generously floured surface, roll out 1/4 of the dough until it is 1/4 inch thick. "Cut out with a fancy cake cutter," and place on a baking sheet.  Brush with egg white and sprinkle with sanding sugar and/or chopped almonds.
6. Bake for 7 minutes, turning half-way through.
***
This cookie isn't for everyone.  It won't satisfy your chewy/chocolate/nutty holiday treat cravings.  But the flavor is unique and surprising: a refreshing palette cleanser after a month of heavy eating.