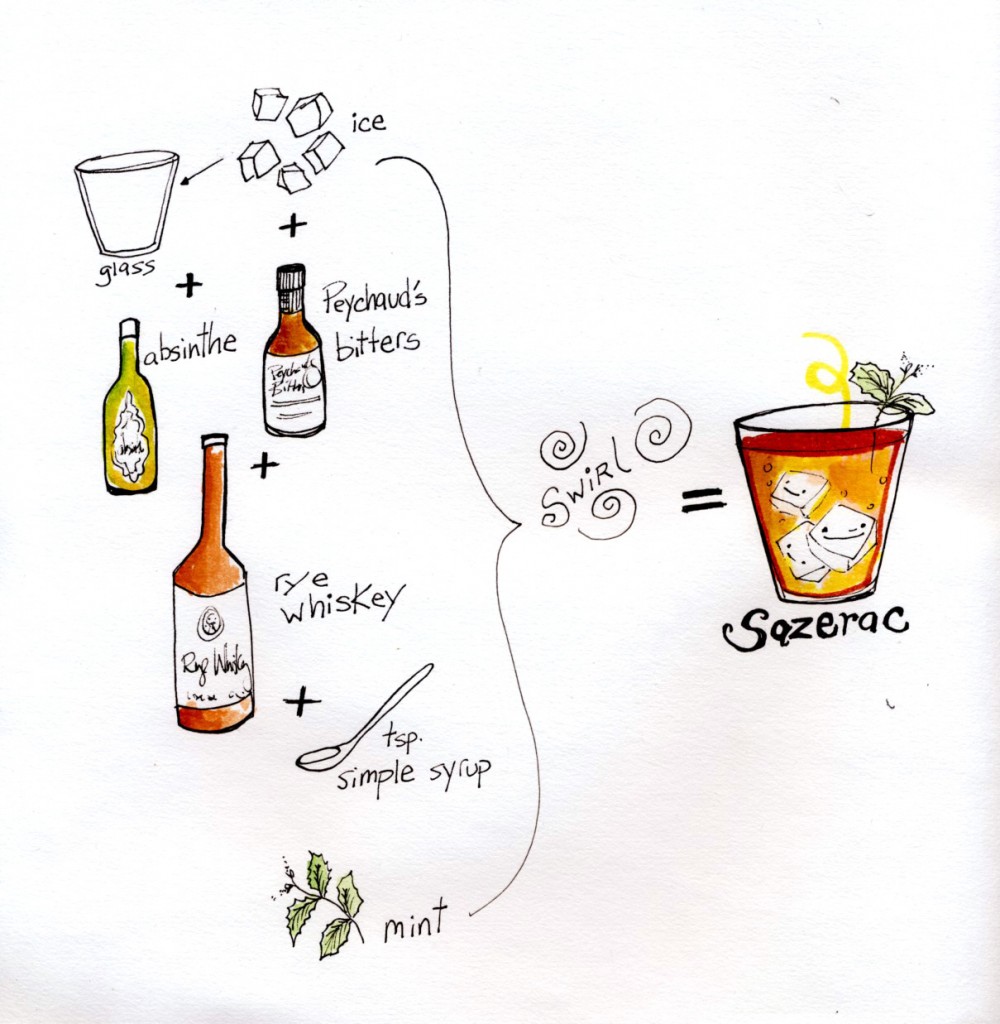 Illustration by Angela Oster.
When Absinthe became legal in the states, the first drink cocktail enthusiasts began mixing up was the Sazerac.  Invented in New Orleans circa 1870, it's based on an even older Cognas drink invented by Antoine Amédée Peychaud; his bitters are indispensable in creating this cocktail.
***
The Sazerac
From The Cocktail Book 1926 Reprint: A Sideboard Manual For Gentlemen
, 1926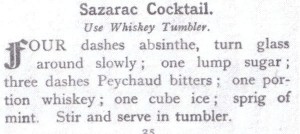 four dashes absinthe
2 ounces rye whiskey
3 dashed Peychaud bitters
1 teaspoon simple syrup
Mint
1. Pour absinthe into a rocks glass, and swirl it around until the bottom and the sides of the glass are coated.  Pour out absinthe.
2. Add ice, then whiskey, bitters, and simple syrup.  Still until the outside of the glass is cold.  Garnish with a sprig of mint and enjoy.
***
For an updated version of this recipe, order the 17th Street Sazerac at Rye House, the first stop on the 19th Century Pub Crawl on Saturday.  Metromix New York, who inspired this post, had this to say about the modernized cocktail:  "Made from Rittenhouse Rye, Hine Cognac, demerara syrup, Peychaud and Angostura bitters and Marteau Absinthe, the drink has all the anise zip of the original, but a deeper tone as well. Not a traditional 1835 pour by any means."
Sounds ok to me, but I may be more tempted by the Rye House Punch, a combination of chai infused Rittenhouse rye, Batavia Arrack, lemon, grapefruit, Angostura bitters, and soda.  Not only do I love a good chai tea, but I am fascinated with Batavia Arrack, a popular 19th century spirit only recently re-introduced to the market.  I'm going to pick up a bottle to experiment with some 19th-century recipes, but I can't wait to try it in a Victorian-inspired cocktail on Saturday.
For a full list of Ryehouse's cocktails, go here.