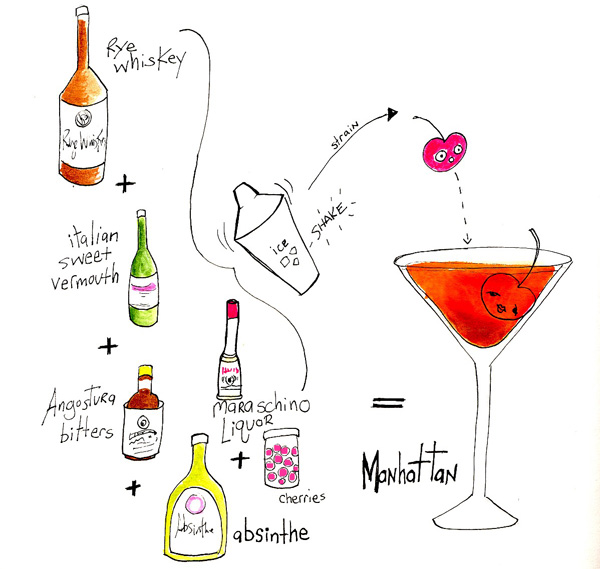 Illustration by Angela Oster.
David Wondrich, cocktail historian and Jerry Thomas expert, says the Manhattan "…Probably dates to the Manhattan Club, which was a social club for rich Democrats at Fifth Avenue and 15th Street in the 1870s."  Accustomed to the maraschino cherry standards of a modern-day Manhattan, I was pleasantly surprised when I was recently served a variation from Wondrich's book Imbibe! Remarkably smooth and even a touch sweet, this has been my favorite drink I've quaffed in a long time.
***
The Manhattan
From Imbibe! By David Wondrich, 2007.
Based on a recipe by Jerry Thomas.
2 ounces rye whiskey
1 ounce Italian sweet vermouth
1 dash Angostura bitters
1 dash Absinthe
1 barspoon (or one teaspoon) Maraschino liquor
1. Â Fill a tumbler with ice; add all ingredients and stir until the outside of the glass is cold.
2. Strain into a martini (cocktail) glass, and garnish with a cherry or a twist of lemon peel.
***
Ready for another variation of this classic drink?  Try Madame X's Dirty Cherry Manhattan.  The second stop on the 19th C. Pub Crawl, Madam X serves up a Manhattan made with Basil Hayden's 8-year-old bourbon, sour cherry syrup and sweet vermouth.  For a full list of Madame X's cocktails, go here.