After my post about applejack last week, my brother (a Bostonian and classic cocktail enthusiast) suggested I post the recipe for the Jack Rose, the iconic applejack cocktail.
This recipe comes from Sloppy Joe's Bar Book (1932), and I mixed it up as part of my pre-prohibition themed birthday party in January.  It was Hemingway's favorite drink to sip while at Sloppy Joe's, a prohibition era bar in Havana, Cuba.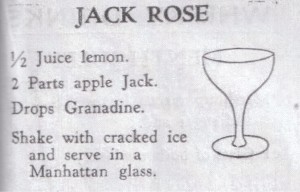 I didn't like it; the combination of the applejack and the lemon juice tasted like heartburn in the making.  I had a fancier version of this drink over the weekend at Death & Company, a swank and beautiful bar in the East Village.  They are known for their neo-gothic interior and classic-cocktail inspired drinks.  Their Jack Rose contains both apple jack and calvados (a French apple brandy) paired with lemon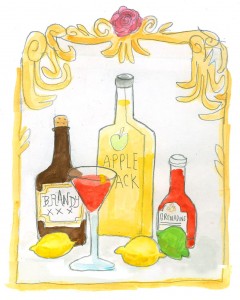 and lime juice and house made grenadine.
My brother has his own take on the recipe; he recommends "1.5 oz apple jack; juice of 1/2 lemon (1 oz); 1 bar spoon (say 1/2 to 1 tsp) grenadine."  To make your own grenadine, use equal volumes unsweetened pomegranate juice and sugar, boiled as you would a simple syrup.
Illustration by Peter Van Hyning.
p.s. – if you're a Bostonian and classic cocktail enthusiast, don't forget about the Boston 19th Century Pub Crawl on April 10th!