Tunnel of Fudge cake bakes up tall, with a glossy, brownie-like crust. Â Break pieces off and eat it; no one will know.
I'm wrapping up Chocolate Delight week with a bang: a cake that has a built-in Tunnel of Fudge.
The legend of this cake was related to me by Jessica, the author of Pictures of Cake. Â This cake won second place at the 1966 Pillsbury Bake-off, losing to '"golden gate snack bread,"' Â a yeast bread made with instant flour, processed cheese spread, dry onion soup mix and butter.(source)" Â Blech. Â The snack bread has been long forgotten, while Tunnels of Fudge lives on.
The Tunnel of Fudge cake was a technical revolution: first, it produced a moist cake with a fudgy, uncooked center, perhaps the ancestor of the modern Molten Chocolate Cake. Â Second, it used a Bundt pan. Â For a little more information on that, take a look at Jessica's invitation to her ToF Cake party:
Third, this cake is quite possible the least healthy thing I have ever made. Â It contains approximately 60 eggs, 1 millions pounds of butter, and 20 cups of sugar. Â Originally, it was made with a pre-packaged, powdered frosting mix called Double Dutch Fudge Buttercream. Â 
Tunnel of Fudge Cake(original recipe)
1 1/2 cups soft Land O' Lakes Butter
6 eggs
1 1/2 cups sugar
2 cups Pillsbury's Best Flour (Regular, Instant Blending or Self Rising*)
1 package Pillsbury Double Dutch Fudge Buttercream Frosting Mix
2 cups chopped Diamond Walnuts
Oven 350° [ed. 350 F / 175 C]
10-inch tube cake
Cream butter in large mixer bowl at high speed of mixer. Add eggs, one at a time, beating well after each. Gradually add sugar, continue creaming at high speed until light and fluffy. By hand, stir in flour, frosting mix, and walnuts until well blended. Pour batter into greased Bundt pan or 10-inch Angel Food tube pan. Bake at 350° for 60 to 65 minutes. Cool 2 hours, remove from pan. Cool completely before serving.
Note: Walnuts, Double Dutch Fudge Frosting Mix and butter are key to the success of this unusual recipe. Since cake has a soft fudgy interior, test for doneness after 60 minutes by observing dry, shiny brownie-type crust.
***
After the frosting mix was discontinued, Pillsbury developed a modern recipe which you can find here. This is the recipe I baked from, with a few minor changes that I will include below.
***
Tunnel of Fudge Cake, REMIXXXX
Adapted from Pillsbury.com and
The 17th Annual Pillsbury Busy Lady Bake-Off Cookbook, 1966
2 3/4Â cups granulated sugar
1 3/4 cups  (2 and 3/4 sticks) butter, at room temperature
6 eggs
2 1/4 cups flour
3/4 cup unsweetened cocoa
1/4 tsp salt
2 cups chopped walnuts (the recipe notes that "Nuts are essential for the success of this recipe." ha!)
1. Grease a bundt pan and dust with additional cocoa powder. Â Preheat oven to 350 degrees.
2. In a large bowl, whisk together flour, cocoa powder, and salt. Â Set aside.
3. Cream together sugar and butter until light and fluffy, about three minutes at medium speed. Â Add eggs one at a time, mixing thoroughly after each one.
4. With mixer on low, slowly add dry ingredients. Â Scrape bowl, then mix until combined.
5. With a spatula, fold in walnuts. Â Spoon batter into bundt pan; bake 45 minutes or until top has a dry, shiny brownie-type crust. Â Cool upright in pan on wire rack 1 1/2 hours. Invert onto serving plate; cool at least 2 hours.
***
Can someone please tell me how to get a cake out of a bundt pan? Â Mine always comes out in broken, shameful pieces.
When I cut my cake, it wasn't puking out fudge like in the 1966 photo; but, running down the middle was a dense spine of goopy fudgeness. Â My oven tends to run a little hot, so I think the cake was slightly over-baked: ten minutes less would have allowed a much thicker fudge vein.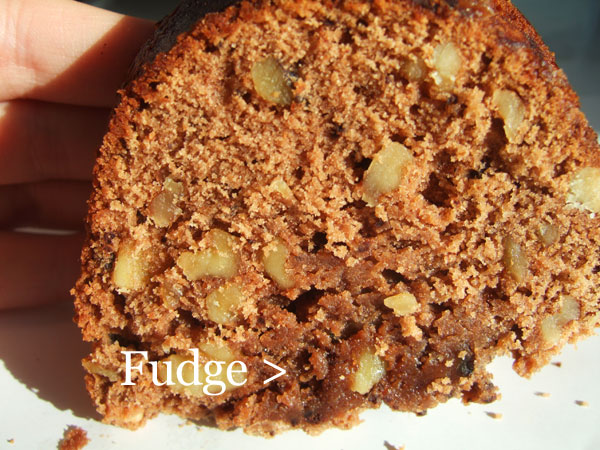 The cake was good; the walnuts were a nice break from what would have been a total chocolate assault. Â But the cake also had a greasy mouth-feel thanks to the million pounds of butter. Â And it's sooooo swweeeeeet. Â I even made it with a cup less sugar than the Pillsbury recipe calls for.
I don't know. Â I'd be curious to have more people give this bizarre chocolate cake a whirl and tell me what you think of the final results.