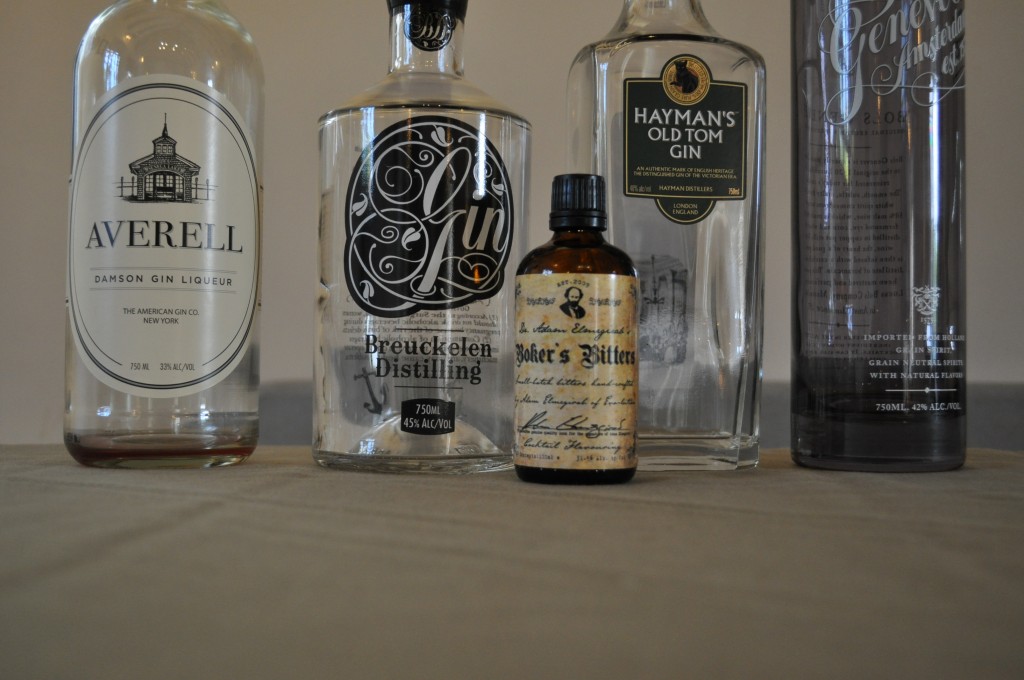 Ilana Kohn snapped this photo at my Gin in June event last month, showing our steady progession through the history of gin.
We started with Genever, the Dutch alcohol that gave birth to modern gin, in one of the most primitive cocktails: the gin sling.  Next we moved through time to a gin popular in the late 19th century, Old Tom.  It's slightly sweet and less herbal than a Genever, but more so that a London Dry–the evolutionary link between the two.  We sampled it in a Martinez cocktail (the predecessor of the modern Martini), which is also where the Boker's bitters went. Then, we moved to a locally produced dry gin, Breucklen, in a cocktail from another burough, the Bronx.
Last, we sampled an old style gin that's only recently come on the market in America, thanks to the crafty distillers of DH Krahn:  Averell Damson Gin, a herbaceous gin infused with tart plum juice.  The cocktail was served was of my own creation, inspired by an 1832 recipe for a Sloe Gin Fizz.  To get the recipe for the Damson Fizz Punch, go here.  I did a guest post on it for Cocktail Virgin Slut because the drink is so perfect for summer.