Premiere episode of Appetite City.  I get a montage!
Last night marked the premiere of Appetite City!  I cooked up some piggy feet, which to be honest, have always given me trouble.  As I say in the episode, the pork has a good flavor; but my pig's feet always comes out a little on the tough side instead of soft and supple.  Thoughts? Suggestions?
The recipe I used in the show came from Rufus Estes' Good Things to Eat, As Suggested By Rufus; A Collection Of Practical Recipes For Preparing Meats, Game, Fowl, Fish, Puddings, Pastries, Etc., considered to be one of the most important early cookbooks by an African American.   Born into slavery, Estes lost two brothers in the Civil War, and from a young age was the man of  his household: carrying water and pails of milk for his mother and working to keep the family afloat.  Estes worked at his first restaurant at the age of 16 and spent the better part of his adulthood working as a chef for the Pullman railways car service, catering to an exclusive clientele: "…Sir Henry Morton Stanley, the explorer, Ignace Paderewski, the Polish pianist and politician, President Benjamin Harrison (1889 – 1903) and President Grover Cleveland…"  By the time his cookbook was published, he was cooking for some of the most wealthy families in America.
Estes seems like a pretty trustworthy reference in the matter of pig's feets.  His slim cookbook contains recipes for "…Sheep's Brains with Small Onions, Sheep's Kidneys, Broiled, and Sheep's Tongues; Candied Violets, Southern Corncakes, Coffee Cup Custard, Roasted Canvasback Duck, Kedgeree, Rolled Rib Roast, and Scotch Snipe. They also include ten Souffle recipes, including those for corn, Guernsey cheese, tapioca and tomato; and five kinds of Sherbet – Cranberry, Currant, Lemon, Lemon Ginger and Tea."  Although few original copies of his book remain, it can be read in its entirety on Feeding America.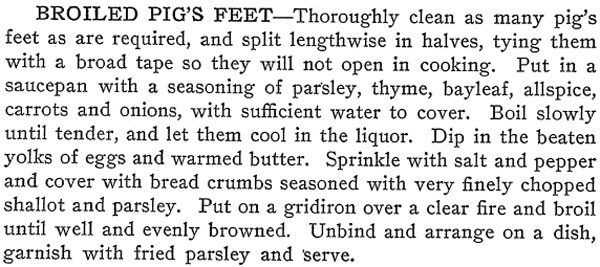 ***
Broiled Pig's Feet
From Good Things to Eat, by Rufus Estes, 1911.
Modern directions inspired by Soul Food and Southern Cooking.
8 pig's feet
1 bunch fresh parsley
3-4 sprigs fresh thyme
1 bay leaf
3 allspice berries
2 medium onions
2 carrots
4 egg yolks
2 tb butter
1 cup bread crumbs
1 tb shallot
1.When you purchase pig's feet, ask your butcher to split them in half for you.  Wash them, pat dry with paper towels, and tie halves together with kitchen twine.
2. Coarsely chop parsley, carrots and onion.  Add to a slow cooker along with thyme, bay leaf and allspice.  Cover with water, and cook on high four hours, or until extremely tender.
3. Remove pig's feet from cooking liquid to cool.  Finely dice shallots and parsley and mix with  bread crumbs.  Whisk the egg yolks with the butter and set aside.
4. Dredge pig's feet in egg and butter mixture and then the bread crumbs. Place in a baking pan and broil 10-15 minutes until well browned. Unbind and arrange on a platter; garnish with parsley.
***
Fun Fact: Raw pig's feet feel exactly like human hands.
Tune in next Thursday for another episode of Appetite City!  Every Thursday at 8:30 on NYC Life Channel 25.  And for those of you who live around the country, stop by my blog on Fridays for the entire episode, recipes and more!